Whether you're an adventurer at heart or an incurable romantic, I am sure you want to make your engagement an unforgettable moment. That's why we have prepared these outdoor ideas because they can take the proposal to the next level! Proposing outdoors isn't just about the backdrop, but about infusing the very essence of the universe into a commitment.
Here are 35 outdoor proposal ideas to make the moment even more spectacular:
1. Starry Night Proposal
Away from the city lights, under a canopy of stars, lay out a blanket and simply stargaze. As the universe stretches out infinitely, it's the perfect time to ask your beloved to be your forever.
And if you want a guarantee of shooting stars, wait for the Perseids. The Perseid meteor shower is active every year from mid-July to late August with a peak around August 11 and 13. Beside the ring, try downloading your sweetheart's favorite song. Success guaranteed!
2. Mountain Top Proposal
The thrill of a hike culminating in the serenity of a mountain peak is symbolic of relationships—hard work, with rewarding views. As the sun rises or sets, casting golden hues all around, it's the perfect moment to pop the question.
If you're both sporty and enjoy hiking, don't hesitate to pop the question after a challenging hike to the top of a mountain. It doesn't have to be a high mountain, a beautiful hike and the endorphins from physical activity will make it an unforgettable moment.
3. Go Glamping
Glamping (glamorous camping) is something that will delight all romantic souls with a love for nature. Just imagine being in a beautiful treehouse, playing romantic music, and dancing. You'll have a great dinner, and wine, and in a picnic basket that you can pull up on a rope at some treehouses, your beloved will find the ring. You'll finish it all with a glass in hand and stargazing.
4. Hot Air Balloon Highs
As you float among the clouds, the world below looks both distant and detailed. With the horizon stretching infinitely, the moment becomes ripe for a proposal that's literally elevated.
If you're venturing into a really big event, you can prepare a big sign in advance on the meadow you'll probably fly over saying, "Will you marry me?" (Using a lawnmower, for example).
5. Beachside Bliss
Imagine the waves providing a gentle soundtrack, your message etched into the sand, and the horizon bearing witness. A secluded beach, especially during the magical hours of sunrise or sunset, can be the idyllic setting you're looking for. The beach is undoubtedly one of the most romantic places you can choose for an engagement.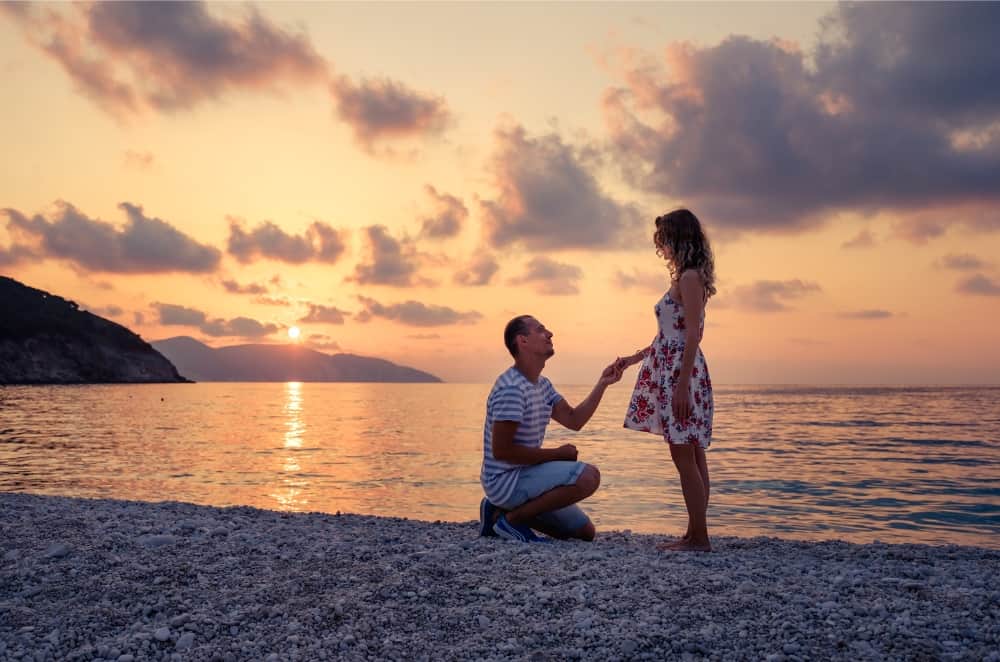 6. Chase the Northern Lights
You couldn't wish for a more romantic experience! According to us, the Northern Lights are the most beautiful natural phenomenon on the planet. It might be a bit challenging to pinpoint the perfect day (but at worst, you'll end up stargazing in a stunning Nordic location). If the weather and solar wind cooperate, you can have engagement photos like no one else.
7. Forest Fairy Tale
Deep within the woods, where stories of yore seem alive, propose amidst ancient trees. Consider stringing up fairy lights for an added touch of enchantment, making your partner feel like they've stepped into a fairy tale.
8. During the Festival of Flying Lanterns
Originating from ancient Asian traditions, this festival has become a global phenomenon, painting skies with hues of hope, love, and dreams. Imagine standing amidst a sea of people, each holding a paper lantern, inscribed with wishes and aspirations.
9. Waterfall Wonders
The vigor and persistence of waterfalls make for an apt metaphor for lasting love. Whether you choose to be behind the curtain of a cascade or looking out from a cliff, the majesty of the scene will enhance your special moment.
10. Dive Deep
Underwater Proposals For those who share a love for the deep blue, scuba diving or snorkeling proposals can be surreal. Imagine floating in a world of blue, presenting a waterproof sign or a ring in a shell.
11. Wait at the end of the zipline
If you have an adventurous girlfriend and you manage to find a zipline long enough to set up a surprise at the end, you can try this scenario too. Let this video be your inspiration:
12. Winter Wonderland
Snow has a purity and serenity that's hard to rival. Whether you choose the peaks of snow-covered mountains, the intimacy of a ski cabin, or simply building a snowman together, winter provides a whimsical backdrop. How about a Viennese evening skating in the run-up to Christmas? Or the top of a glacier while skiing in the Alps?
13. Romantic Picnic at Sunset
Head to a beautiful spot with a view where you can have privacy and watch the sunset. You can also bring a candle in a glass or a lantern to enhance the atmosphere. If you're heading into nature, don't forget insect repellent to keep mosquitoes from spoiling this special moment.
14. At the Finish Line of Your Favorite Race
If you both participate in races together, the finish line could also be an option. For instance, at the end of a Spartan Race, many couples have already gotten engaged. However, be sure to pay attention to whether this is really what your significant other desires.
15. Boat Ride
Another romantic location is the water. Whether it's rowing on a lake or maybe a houseboat, it's a place where you're guaranteed your beloved won't run away. Alternatively, you could sail to a deserted island where your beloved will find a message, a flower path, candles… don't be afraid to be creative even here.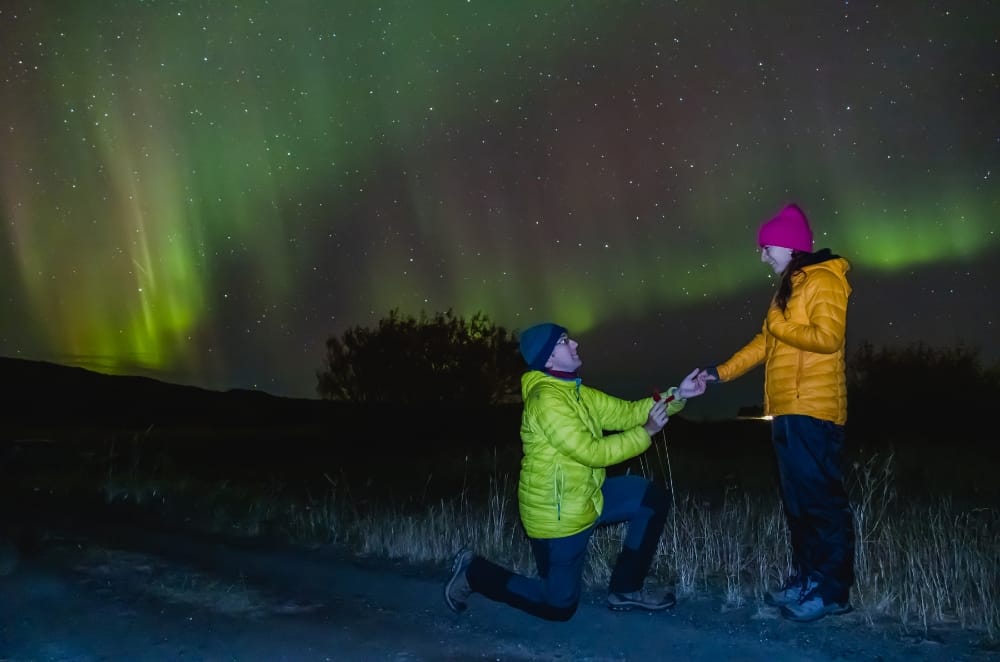 16. At Your First Date or First Kiss Spot
If you have a "special" place where something significant happened between you two and you consider it romantic, you can bring nostalgia and beautiful memories into your proposal. You can even present the photo projection on your phone (with a beautiful song in the background) and be alone in the place, just the two of you.
17. Propose at a Scenic Overlook
If your beloved isn't afraid of heights, you can plan a trip into nature and take your adventure to new heights.
18. Adventure Picnic
Take a helicopter ride to a remote spot or find a location only accessible by a rugged 4×4. These adventure picnics aren't just about the food but the journey, setting, and of course, the company.
19. Plan a Perfect Surprise Day
If you want to prepare a truly original proposal, try planning a "perfect day" with the help of your friends. Think of it as a quest with instructions. Start by sending her off to lunch with her friends, then the next task could be picking out an outfit for an evening party, and in the evening, her friends can lead her to an alleyway adorned with candles. You don't need any more explanation about what happens at the end of that alley. You can get inspiration from here:
20. Horseback Horizon
Take your partner on a scenic ride through the countryside or along the beach, allowing the rhythm of the horses to sync with your heartbeats. Stop at a picturesque spot, perhaps overlooking a valley or ocean, and with the setting sun casting golden hues, kneel down and present your promise.
21. Campfire Connection Proposal
Choose a remote site under a canopy of stars, where the only light is the glow of your campfire. As you share stories and roast marshmallows, serenade your beloved with a song or a poem, leading to the most important question of your life.
22. Something for Adrenalin Junkies
For couples who bond over adrenaline, the moments post a white water rafting or bungee jump, when the heart is still racing, can be perfect for another heart-stopping question.
23. Tranquil Treehouse
Elevate your proposal, literally! Choose a secluded treehouse set amidst a lush forest. The blend of comfort and nature, with perhaps the distant song of birds, sets the mood for a dreamy engagement.
24. Secluded Lighthouse Love
Climb to the top of a remote lighthouse. With the vast expanse of the ocean as your backdrop and the rhythmic sound of waves, let your love story find its beacon of commitment.
25. Cave of Wonders
Opt for the mystique of a beautifully lit cave or grotto, where stalactites and stalagmites bear witness to your love story. Amidst the echoes of time, let your words resonate with love and promise. You can read a story of my best friend's proposal:
My friend loves bunkers, caves, and everything underground, so her significant other planned a beautiful experience for her! During one of their trips, they ventured into one of the caves, and the entrance was adorned with lit candles. When they entered, music started playing, and photos from their adventures began to be projected onto the cave walls. To this day, she describes this moment as one of the most beautiful experiences of her life.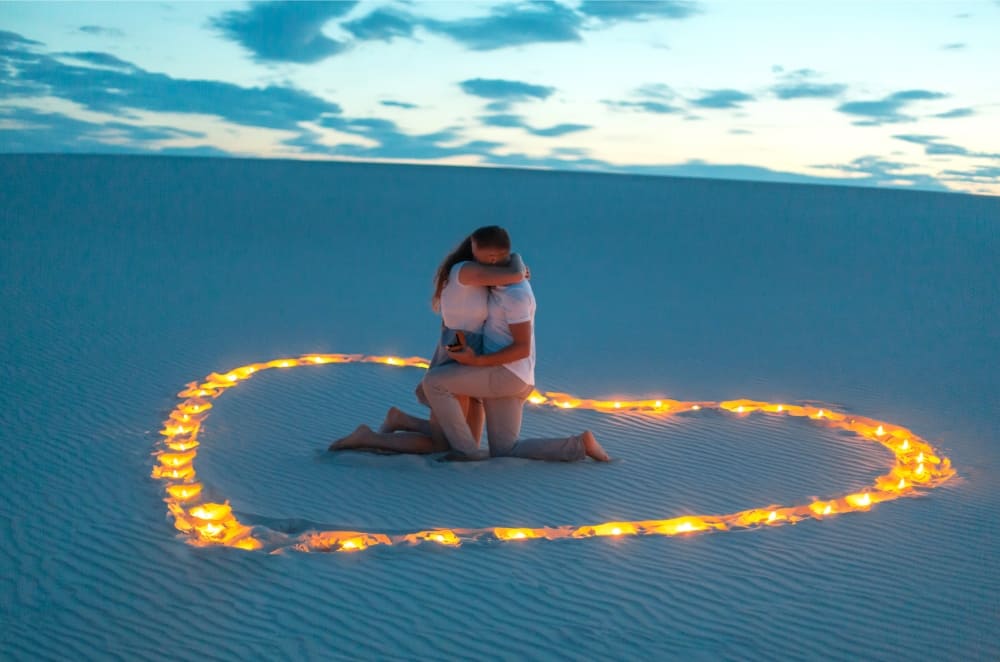 26. Deserted Island
Dreams The essence of romance is privacy and what better than a deserted island? Charter a boat, drop anchor, and let the vastness of the ocean be your only witness.
27. Vineyard Vows
Rows upon rows of grapevines, the aroma of aged wine, and the promise of a heady future. A vineyard, especially during the grape harvest season, can be a beautiful ode to mature, aged love.
28. Wildlife Safari Setting
Wild terrains, majestic animals, and the thrill of nature in its purest form—a safari setting can be both adventurous and intimate for your proposal.
29. On a Serene Lake
The gentle lapping of water against a boat, the mirrored reflections of the sky and trees, and the world seemingly standing still. Proposing on a boat or canoe, anchored in the middle of a placid lake, is both romantic and timeless.
30. Ancient Ruins Romance
Imagine the stories and lives that have passed through historic ruins or temples. Amidst stones etched with time, your love story will find a timeless space. Whether it's the mysterious allure of Machu Picchu or the grandeur of the Roman Colosseum, such places offer a testament to love that endures.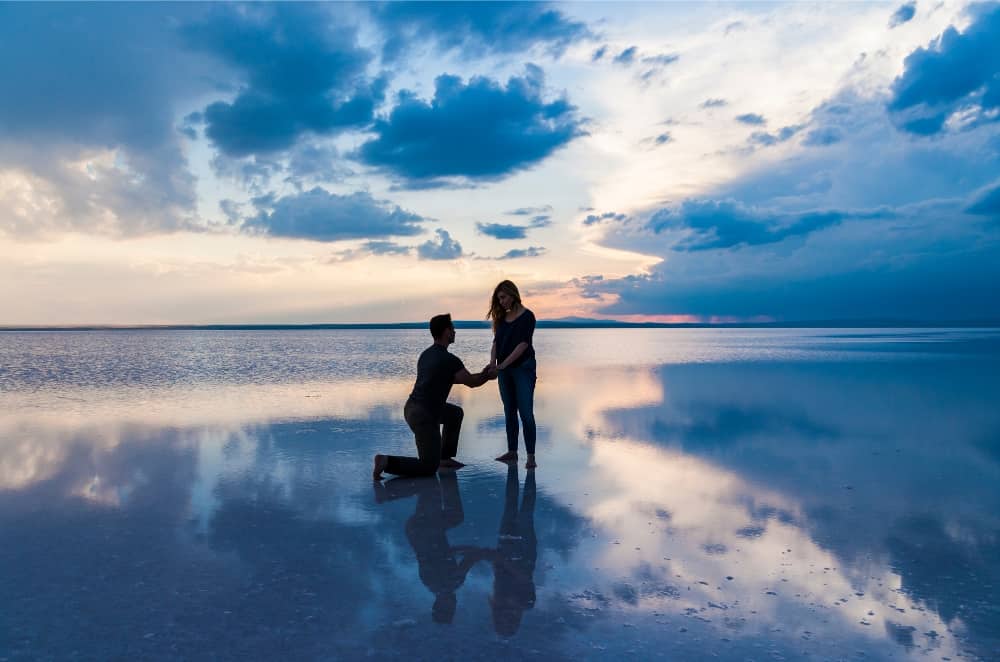 31. Romantic Rooftop
In the heart of a bustling city, find a secluded rooftop garden or terrace. Amidst the city lights and under the night sky, let the blend of nature and urban life create the perfect ambiance for your proposal.
32. Garden Grace
World-renowned botanical gardens, with their floral scents, butterfly dances, and a cacophony of colors, can provide a serene setting. Find a secluded spot amidst the blooms and let nature play the orchestra.
33. Picturesque Pier Proposal
Stroll down to the end of a wooden pier. Surrounded by water, with the horizon in the distance and perhaps a setting sun, let the serenity guide your heart's confession.
34. National Park Magic
The sheer majesty of national parks, from the echoing canyons of the Grand Canyon to the serene landscapes of Yosemite, offers a backdrop like no other. As you stand amid nature's grandeur, pledge your love surrounded by centuries of natural history. Set up a secluded campsite, complete with a bonfire, to add a touch of intimacy to your monumental moment.
35. Blooming Field Fantasy
Find a field in full bloom – be it wildflowers, sunflowers, or lavender. As the gentle breeze carries the aroma and the horizon stretches with colors, it's a picture-perfect setting to kneel and propose.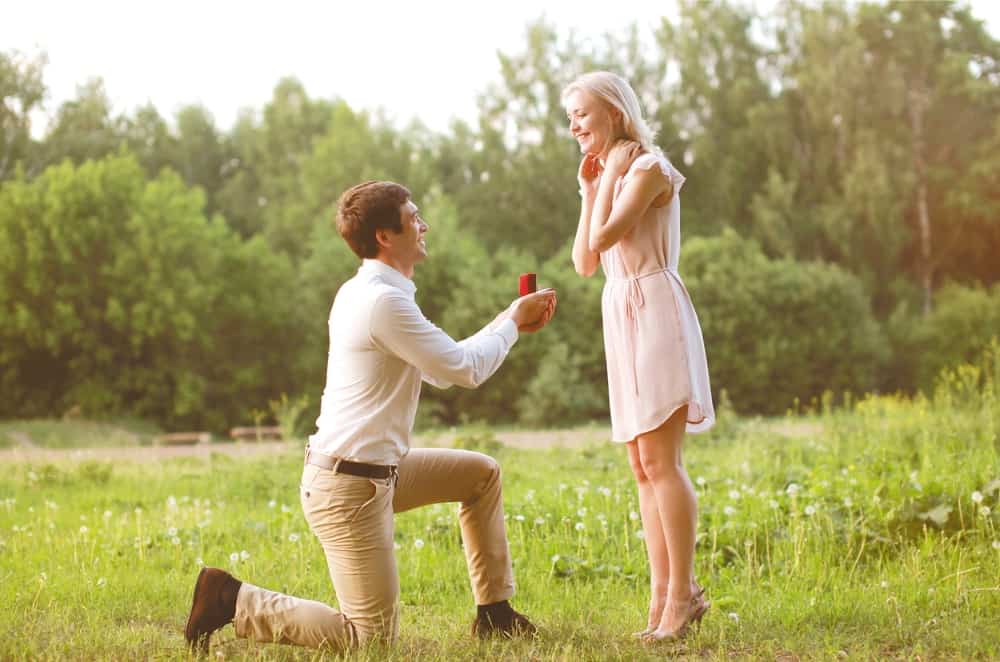 Bonus tip: Make it a Fake Geocache hunt
Do you guys do Geocaching? Prepare for her a Mystery Geocache with the ring inside!
Tips for a Successful Outdoor Proposal
Crafting the perfect proposal takes more than just picking a scenic location. The subtle details, personal touches, and careful planning can elevate your special moment. Here are some tried and true tips for ensuring your outdoor proposal is as breathtaking as your love story.
Research the Location:
Know the best spots and understand the weather patterns. If it's a public place, figure out when it's least crowded.

Check if permits or permissions are needed for specific activities or areas.
Plan for the Elements:
Always have a backup plan in case of inclement weather.

Dress appropriately, and ensure your partner is dressed comfortably too.
Personalize the Space:
Ambient lighting, like fairy lights or candles (in safe containers), can add magic.
Safety First:
If you're in a remote or adventurous location, let someone know where you're going, and carry essentials like a first aid kit or a flashlight.
Ensure the engagement ring is securely stored and easy to access.
Enlist Help:
A friend can help with logistics, like playing a song at the right moment or capturing the proposal on camera.
They can also ensure the area remains private and undisturbed.
Remember the Essentials:
Don't forget essentials like a picnic blanket, drinks, or even insect repellent if needed.
Keep it Authentic:
While it's great to take inspiration from others, ensure the proposal reflects both your personality and your shared journey.
Test the Terrain:
If proposing in a challenging location like a mountaintop or secluded beach, scout or visit the place beforehand to ensure accessibility and suitability.
Capture the Moment:
Consider hiring a professional photographer or videographer to discreetly capture the proposal.
Set the Mood:
Music can enhance the ambience. Consider a portable speaker with a playlist of meaningful songs (but ensure the volume doesn't disturb others or the environment).
Conclusion
Popping the question outdoors adds that sprinkle of magic to an already special moment. But remember, it's not just about the location—it's about the two of you. As you take a knee or share that intimate glance, know that the real beauty is in the love you share. So, cheers to epic proposals and even more epic love stories! Nature's just the cherry on top.
Pin this article on Pinterest:
Did you like this guide? Share them with your friends!