Are you wondering, what to write on your wedding Instagram post? You have found the right place!
We have divided bride Instagram captions into several categories – cute, romantic, funny, clever, about dress, and more…
Romantic Bride Instagram Captions
I'll choose you always.
We love a happily ever after.
This is the next page in our love story.
Once in a lifetime, you meet someone who changes everything.
Dreams do come true. I found you, didn't I?
Toi et moi. ("You and me." in French)
Laughs like this forever.
Cheers to love and laughter, but especially to our happily ever after.
It's always been you.
The best is yet to come.
Here and now we vow to grow together.
My forever plus-one.
So this is love.
You made me believe in love at first sight.
Together is a beautiful place to be.
Happiness is being married to your best friend.
All mine, for a lifetime.
All because two people fell in love.
The best thing to hold onto in life is each other.
Still falling for you harder than ever before.
Hopelessly devoted.
Who said fairytales weren't real?
I do, now and forever.
First day of forever.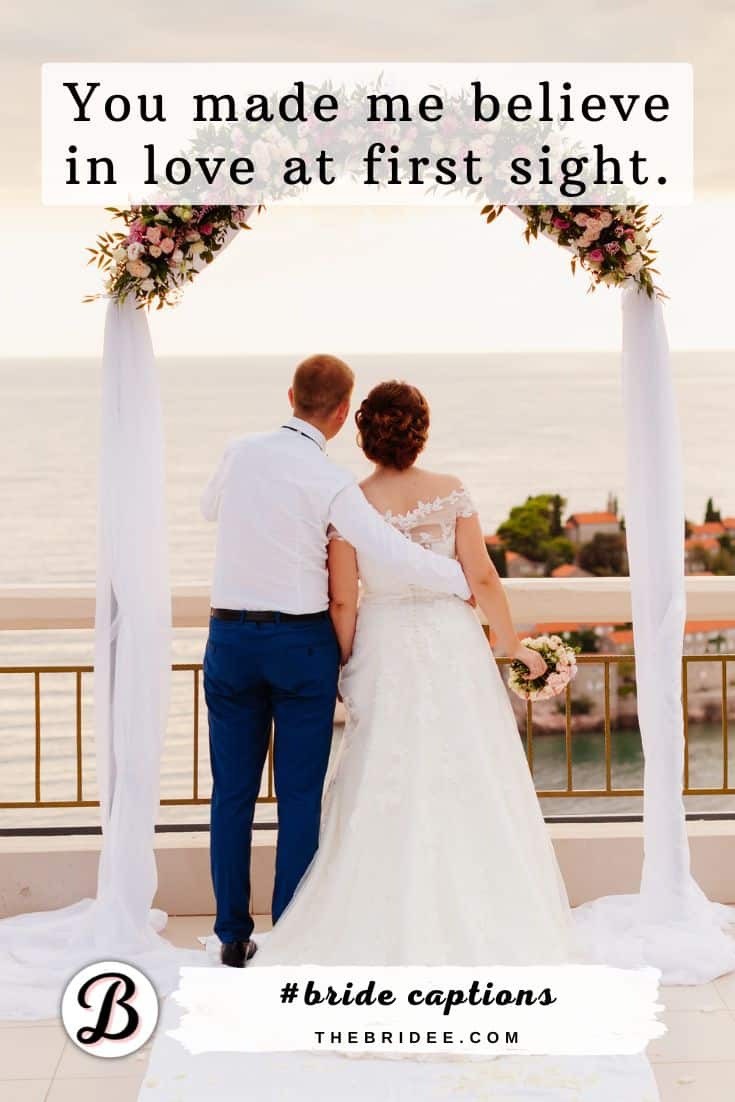 Funny Bride Instagram Captions
The hangover only lasts a day, but the memories last a lifetime.
Congrats on being stuck with me forever!
My ride or die for life. Seriously, it's legal.
Shoutout to my Pinterest board for making this happen.
No wedding crashers here.
Locked in for life.
The best part of our wedding was realizing we don't have to plan it anymore.
I just showed up for the cake.
Me, myself, and I do.
We said "Yaaaas!"
Do these outfits make us look married?
Leavin' the single life in the dust.
Me and a fan.
My favorite part of my wedding was realizing that I didn't have to plan it anymore.
Sorry, folks! We're off the market.
Now we can hang out forever!
"Trust me, you can dance." —Champagne
There's no going back now!
Hard launch.
Better than any Pinterest wedding board I've ever seen.
Bridezilla? Who, me?
Basically the royal wedding.
Pop the Champagne—I'm changing my last name!
|It just got real.
It's the "ugly crying at weddings" time of the year.
Cute Bride Instagram Captions
Every day you prove to me that happily-ever-after really does exist.
You are all I ever wanted love to be.
Diamonds are forever, and so is our love.
Today was a fairytale.
It started out with a kiss.
This day was as perfect as this photo.
To love, laughter, and their happily ever after.
Together forever.
Today was so great, even our cake was in tiers.
With my whole heart and for my whole life.
That "just married" feeling.
My favorite place in the world is by your side.
This is where forever starts.
I do, I do, I do!
My name is cuter with your last name added to it.
True love is when both people think they're the lucky one.
All of my smiles start with you.
This was clearly taken *before* I started crying.
Life is better with you.
The veil is lifted.
Always kiss me goodnight.
I'll love you for forever and a day.
Finally, I got my fairytale ending.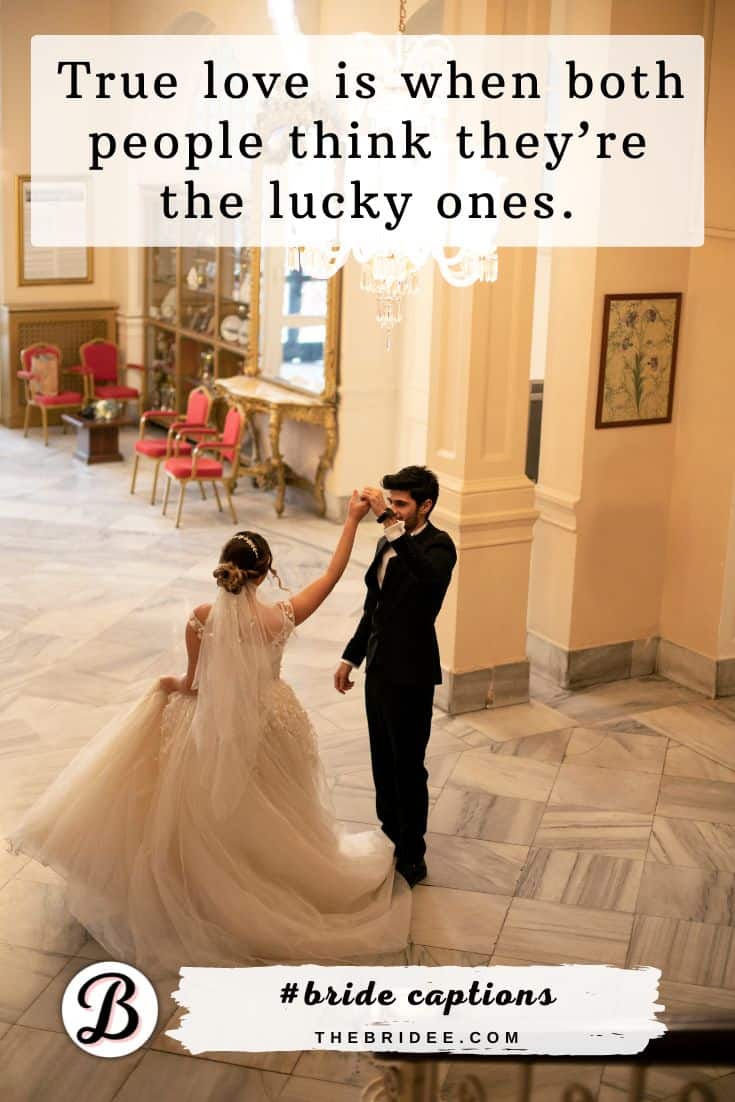 Bride Instagram Captions about Dress
Never not looking for an opportunity to dress like a princess.
Does this dress make me look married?
Life is short. Buy the dress.
I'm in full-on fairy-tale mode.
Live, laugh, say yes to the dress.
Did I try on every dress in the store first? . . . No comment.
I don't always wear white, but when I do, I'm getting married.
Now that I have the dress, happily ever after can start.
This looks like a great dress to get married in.
Does this dress make me look married?
A girl should be two things: Classy and fabulous.
I can't keep calm, I said yes to the dress.
[Last name] photo dump.
"A wedding dress is both intimate and personal for a woman — it must reflect the personality and style of the bride." — Carolina Herrera
Spinning like a girl in a brand-new dress.
"Today was a fairy tale, I wore a dress." — Taylor Swift, "Today Was A Fairy Tale"
Be your own kind of beautiful.
Does this dress make me look like a Mrs.?
Went from Miss to Mrs.
If you're getting married, you'll need a good outfit.
I said yes to the dress!
Does this dress make me look like a Mrs.?
Selecting a wedding dress is more than just a fitting… it's a process, a memory in the making.
You can't spell weddings & rings without D-R-E-S-S.
I found the guy – and now I've found "the one!"
Clever Bride Instagram Captions
For as long as we both shall live.
In your arms, I am home.
You will forever be my always.
Marriage looks good on us, doesn't it?
True love is the greatest adventure.
The best thing I swiped right on.
When I met you, I forget what life was like without you.
Locked in.
When I count my blessings, I count you twice.
True love stories never have endings, but they do have magical beginnings.
Love at first swipe.
Anyone can catch your eye, but it takes someone special to catch your heart.
Today I marry my best friend.
My ride or die. Seriously. It's legal now.
The beginning.
To have and to hold.
'Till death do us party.
Marriage? Yeah, it has a nice ring to it.
How did we get so lucky?
Finding you was worth the wait.
To infinity.
Hand in hand, heart to heart, on this day, our adventure starts.
Love is in the air.
You are my today and all of my tomorrows.
He stole my heart so I stole his last name.
LOML. (Love of my life)
Our love story is my favorite.
Best. Day. Ever.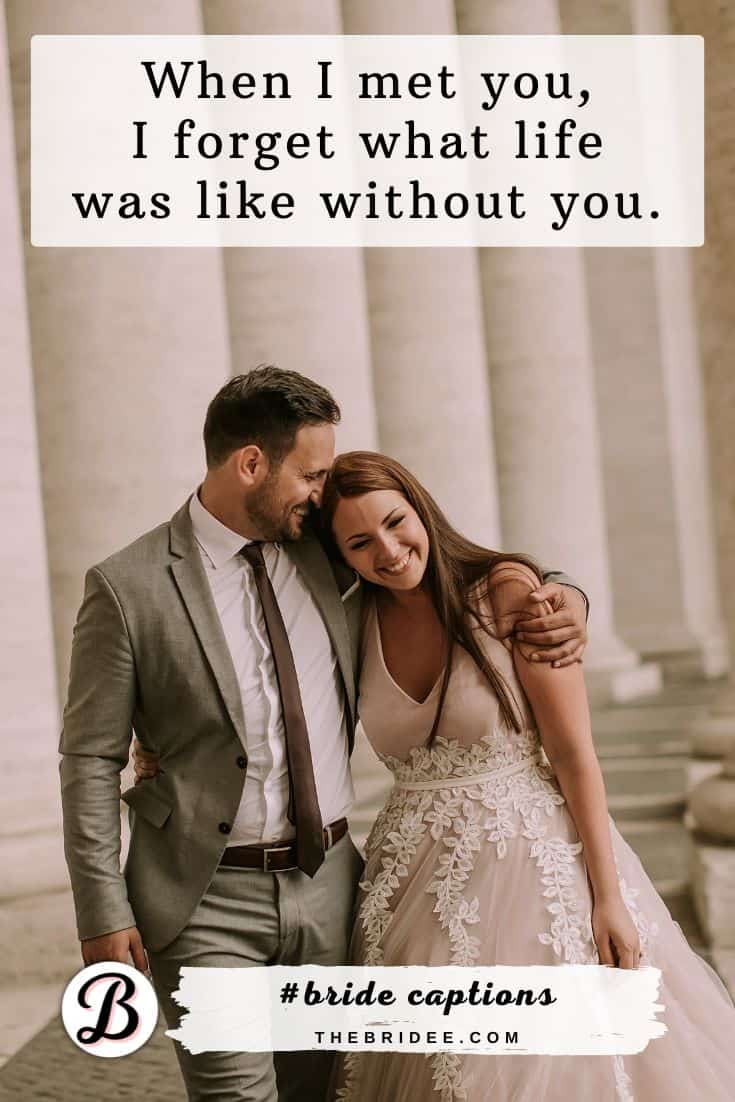 Simple Bride Instagram Captions
How did we get so lucky?
Today we bride!
Let it bride
Don't veil me now.
This is the day love has made.
The whole is greater than the sum of its parts.
It's a great day to get hitched.
Today's forecast: 100% chance of marriage.
A portrait of love.
Together, we are whole.
Forever begins today.
The look of love.
Only the future matters.
Signed, sealed, and delivered!
We are invincible.
Wed today, honeymoon tomorrow.
Never letting go.
Destiny brought us to this day.
It's a great day for the right wedding.
Our hearts are whole.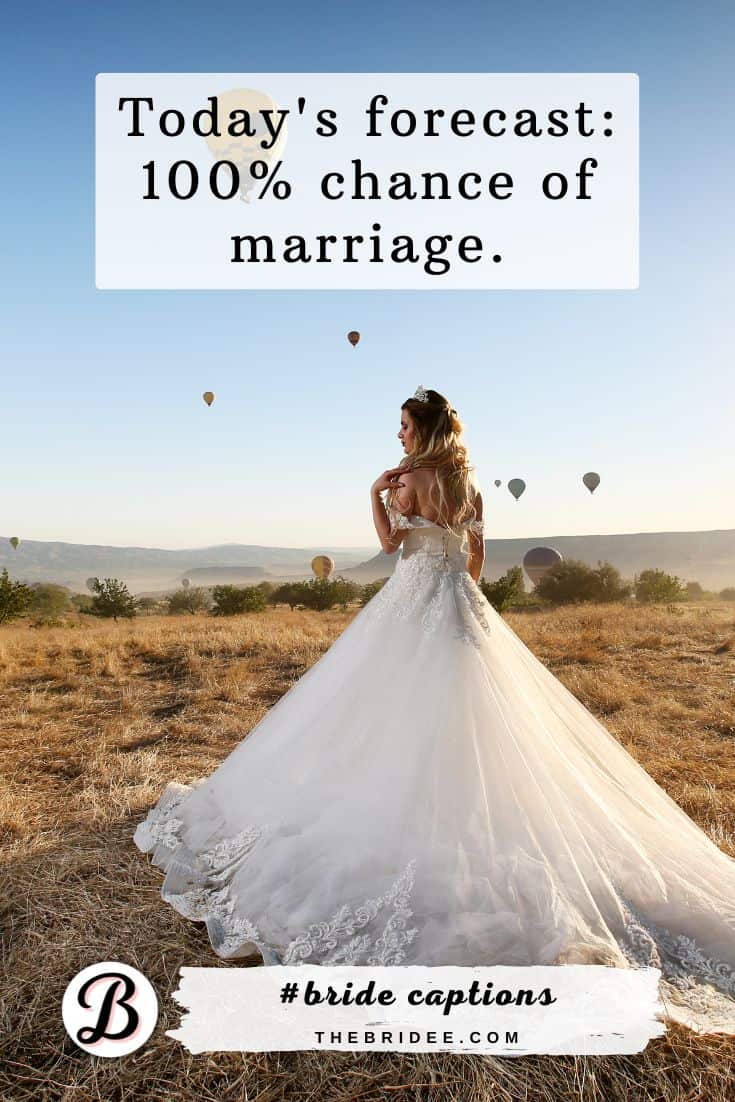 Bride Instagram Captions from Movies, TV, Music
"I'm always gonna love you—till the end of my days, and beyond." (How I Met Your Mother)
"We built this love from the ground up." ("From the Ground Up" by Dan and Shay)
"Three words, eight letters… say it and I'm yours." (Gossip Girl)
"It could be nice, growing old with you." (The Wedding Singer)
"You're my lobster. 🦞" (Friends)
"You're my person." (Grey's Anatomy)
"I'll tell you one thing, it's always better when we're together." ("Better Together" by Jack Johnson)
"You are my greatest adventure." (The Incredibles)
"I promise to never forget that this is a once in a lifetime love." (The Vow)
"It was a million tiny little things that, when you added them all up, they meant we were supposed to be together." (Sleepless in Seattle)
"This will be an everlasting love." ("This Will Be" by Natalie Cole)
"You are mine… at last." ("At Last" by Etta James)
"You've set my world on fire, and I know, I know everything's gonna be alright." ("Golden Hour" by Kacey Musgraves)
We have that "can't-live-without-each-other love." (Sex And The City)
"I woke up like this." ("Flawless" by Beyoncé)
"When I'm with you, I feel happy to be alive. Like I can do anything." (Boy Meets World)
"Just say you won't let go." ("Say You Won't Let Go" by James Arthur)
"You had me at hello." (Jerry Maguire)
"There is nothing I know more than the fact that I want to be with you." (New Girl)
"How about coffee, drinks, dinner, a movie… for as long as we both shall live?" (You've Got Mail)
"This is true love. You think this happens every day?" (The Princess Bride)
"Well, it's love at first sight. Actually, it was… No, it was when I heard your voice. It was love at first see with my ears." (The Office)
"I love you very much, probably more than anybody could love another person," (50 First Dates)
"You look perfect tonight." ("Perfect" by Ed Sheeran)
"All you need is love." ("All You Need Is Love" by The Beatles)
"You're my end and my beginning." ("All of Me" by John Legend)
"I love you and I like you." (Parks and Recreation)
"When all my dreams come true, the one I want next to me… it's you." (One Tree Hill)
"When you realize you want to spend the rest of your life with a person, you want the rest of your life to start as soon as possible." (When Harry Met Sally)
"I want all of you, forever, you and me, every day." (The Notebook)
"Still can't believe it when you say you're mine and I am yours." ("I Am Yours" by Andy Grammer)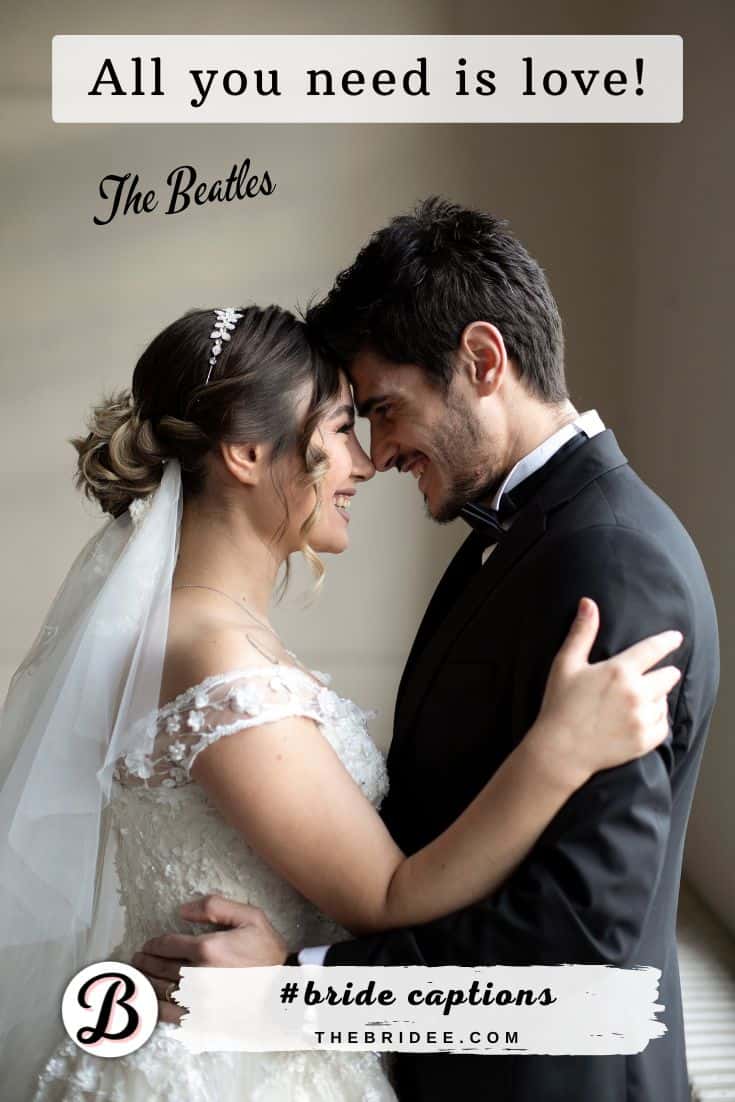 Elopement Bride Instagram Captions
Eloped and so in love.
Just eloped. How about you?
Just eloped, NBD.
Just married. Surprise!
Got married yesterday. Honeymoonin' today.
This just might be our most romantic adventure yet.
Relationship status: married to my love.
It's just you and me, together forever.
Life is short, just elope.
I think we should get married today.
Hey, wanna get married today?
Getting eloped is always a good idea.
This might be our most romantic adventure yet.
At the end of the day, it's all about who you want to ride off into the sunset with.
Two's company, three's a crowd—it's also our wedding!
Being spontaneous was always our thing anyway.
Woke up and decided to get married today.
Selfies are better when you just married your SO.
I swear our love belongs in the movies.
Love as much as you live.
Do these rings make us look… married?
Nothing fancy, just love.
I'd marry you anytime and anywhere.
A white dress looks really good on you.
Gone eloping. Be back soon.
Nothing fancy, just love. And these new rings.
Read also:
Pin Instagram Captions for Bride on Pinterest: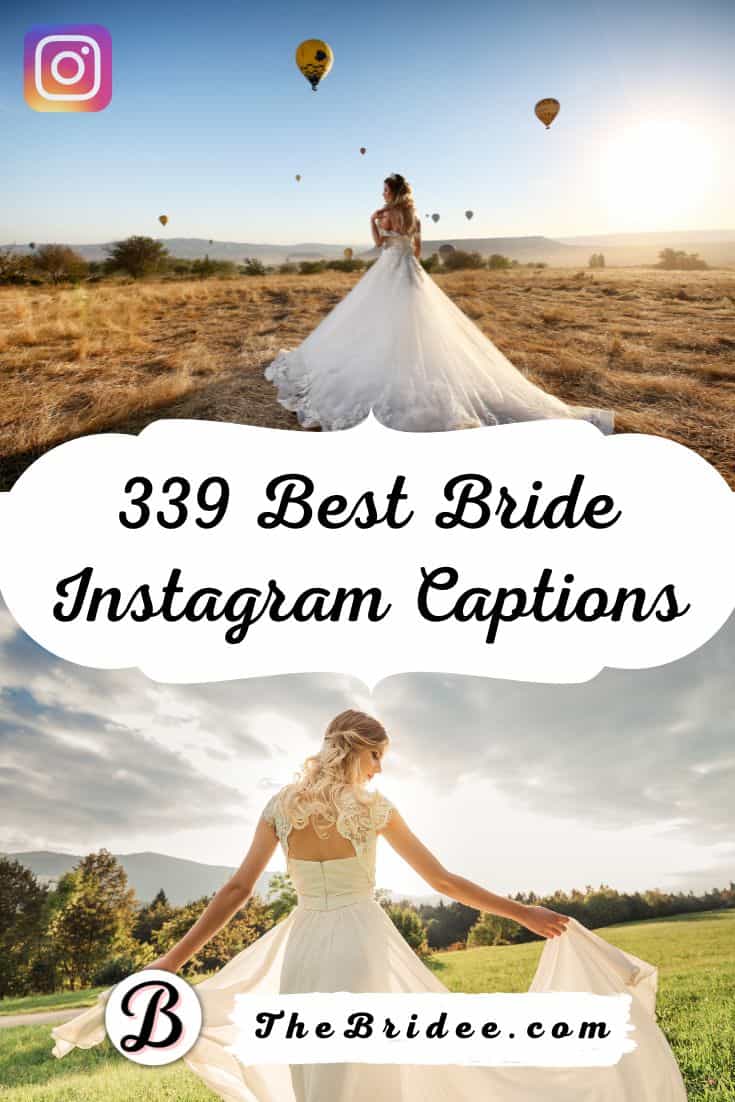 Romantic Bride Instagram Captions
Funny Bride Instagram Captions
Did you like these captions for bride? Share them with your friends!