Do you seek engagement quotes to post on social media such as Instagram, Facebook, TikTok, or any other? You have found the right place!
We have divided engagement quotes into several categories – best, cute, for him, for her, funny, and more…
Best Engagement Quotes
"No measure of time with you will be enough. But let's start with forever." – Stephanie Meyer.
"Whatever our souls are made of, his and mine are the same." – Emily Bronte.
"It's amazing how one day someone walks into your life, and suddenly, you can't remember how you lived without them." — Anurag Prakash Ray
"Engagement marks the end of a whirlwind romance and beginning of an eternal love story." — Rajeev Ranjan
"The best thing to hold onto in life is each other." — Audrey Hepburn
"Love does not consist of gazing at each other, but in looking together in the same direction." – Antoine de Saint-Exupery
"You are my today and all of my tomorrows." – Leo Christopher.
"When you realize you want to spend the rest of your life with somebody, you want the rest of your life to start as soon as possible." – Nora Ephron.
I feel like this is the beginning, though I've loved you for a million years." — Stevie Wonder
"Happily, ever after is not a fairy tale. It's a choice." – Fawn Weaver.
"I love her and it is the beginning of everything." – F. Scott Fitzgerald
"And I'd choose you; in a hundred lifetimes, in a hundred worlds, in any version of reality, I'd find you and I'd choose you." — The Chaos of Stars by Kiersten White
"If I were to live a thousand years, I would belong to you for all of them. If we were to live a thousand lives, I would want to make you mine in each one." — Michelle Hodkin
"I wanna make you smile whenever you're sad. Carry you around when your arthritis is bad. All I wanna do is grow old with you." — Adam Sandler
"This is the miracle that I've been dreaming of. So, this is love." — Cinderella
"I love you because the entire universe conspired to help me find you." — The Alchemist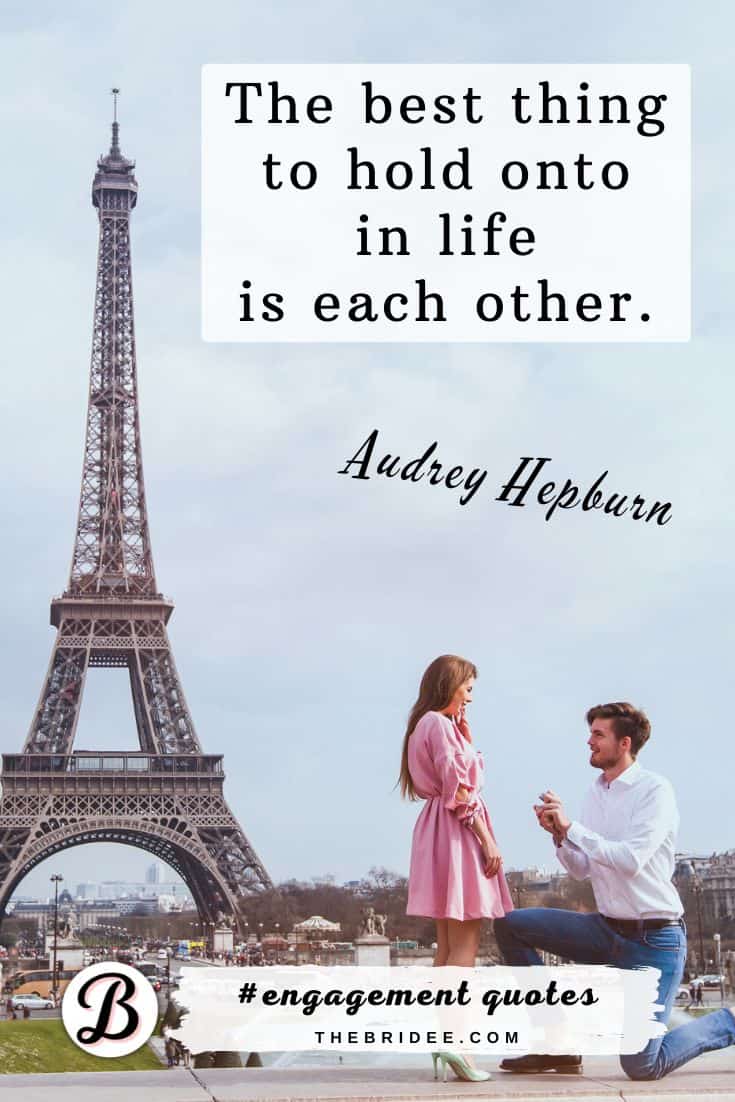 Love Quotes for Engagement
"Love is the master key that opens the gates of happiness."- Oliver Wendell Holmes.
"The greatest thing you'll ever learn is just to love and be loved in return." – Eden Ahbez
"I swear I couldn't love you more than I do right now, and yet I know I will tomorrow." – Leo Christopher
"You come to love not by finding the perfect person, but by seeing an imperfect person perfectly." – Anonymous
"Love doesn't make the world go 'round. Love is what makes the ride worthwhile." – Franklin P. Jones
"To love and to be loved is to feel the sun from both sides." — David Viscott
"Love reminds you that nothing else matters." – Amy Bushnell.
"Love is not blind—it sees more, not less. But because it sees more, it is willing to see less." – Rabbi Julius Gordon.
"Love at first sight is easy to understand; it's when two people have been looking at each other for a lifetime that it becomes a miracle." – Sam Levenson.
"Love seems the swiftest, but it is the slowest of all growths. No man or woman really knows what perfect love is until they have been married a quarter of a century." – Mark Twain.
"Gravitation cannot be held responsible for people falling in love." – Albert Einstein.
"You are my heart, my life, my one and only thought." — Arthur Conan Doyle
"I love you not only for what you are but for what I am when I am with you." — Elizabeth Barrett Browning
"We loved with a love that was more than a love." — Annabelle Lee by Edgar Allan Poe
"My love for you has no depth, its boundaries are ever-expanding." – Christina White
Read also: 375 Best Love Captions for Instagram
Short Engagement Quotes
"Once you've found the right person, you just know." — Sophie Turner
"All that you are is all that I'll ever need."- Ed Sheeran.
"True love stories never have endings." – Richard Bach
"Grow old with me! The best is yet to be." – Robert Browning.
"Wherever you are is my home, my only home." – Jane Eyre
"For it was not into my ear you whispered, but into my heart." – Judy Garland.
"If I know what love is, it is because of you." – Herman Hesse
"Remember tonight, for it is the beginning of always." — Dante Alighieri
"Trip over love, you can get up. Fall in love and you fall forever." – Anonymous
"You complete me." — Jerry Maguire
"You are my greatest adventure." – The Incredibles
"You are, and always have been, my dream." — The Notebook
"Some people are worth melting for."— Olaf, Frozen
"Let me share this whole new world with you." — Aladdin
"It was love at first sight, at last sight, at ever and ever sight." ―Vladimir Nabokov
"I love you more than I have ever found a way to say to you." —Ben Folds
"Love reminds you that nothing else matters." — Amy Bushnell
"What is done in love is done well." — Vincent van Gogh
"Heaven is a place on earth with you." – Lana Del Ray
Funny Engagement Quotes
"It's so great to find that one special person you want to annoy for the rest of your life. " – Rita Rudner.
"Many people spend more time in planning the wedding than they do in planning the marriage." – Zig Ziglar.
"Advice for almost married men: Never laugh at your wife's choices, you are one of them."
"Give a man a finger, he'll put a wedding ring on it!" – Ljupka Cvetanova, 'The New Land.'
"When you realize you want to spend the rest of your life with somebody, you want the rest of your life to start as soon as possible."
"Before you marry a person, you should first make them use a computer with slow Internet to see who they really are." – Will Ferrell
"Marriages don't work when one partner is happy and the other is miserable. Marriage is about both people being equally miserable." – Forget Paris
"It is the duty of the bride's father to give a party to announce the engagement. Apparently, this is done only after everyone knows about it." – Spencer Tracy
"The secret of a happy marriage remains… a secret." — Henny Youngman
"There is no cure for love other than marriage." — Irish love proverb
"A happy marriage is the union of two good forgivers." – Ruth Bell Graham
"My advice to you is to get married. If you find a good wife, you'll be happy, if not, you'll become a philosopher" – Socrates
Engagement Announcement Quotes
"I couldn't have dreamed you into existence because I didn't even know I needed you. You must have been sent to me." — Kamand Kojouri
"We may have started as individuals, but now we are as one." – Bryon Pulsifer.
"I would rather share one lifetime with you than face all the ages of this world alone." — J. R. R. Tolkien
"Love is composed of a single soul inhabiting two bodies." — Aristotle
"Do I love you? My god, if your love were a grain of sand, mine would be a universe of beaches." – The Princess Bride
"We must have been soulmates in the past for we just clicked so easily to be engaged so fast." — Anonymous
Engagement Quotes for Instagram Pictures
"If there is such a thing as a good marriage, it is because it resembles friendship rather than love." – Michel De Montaigne.
"If my heart is the sky, it is now engaged to the most precious star."
"The best and most beautiful things in this world cannot be seen or even heard, but must be felt with the heart." – Helen Keller.
"You are the most important thing to me now. The most important thing to me ever." — Twilight by Stephanie Meyer
"Without you, I'm nothing, with you I'm something, but together we are everything." — Unknown
"You are sunlight through a window, which I stand in, warmed. My darling." — The Miniaturist by Jessie Burton
"That moment when you kiss someone, and everything around you becomes hazy, and the only thing in focus is you and this person, and you realize that that person is the only person that you're supposed to kiss for the rest of your life." — Never Been Kissed
"You are the best thing that's ever been mine." — "Mine" by Taylor Swift
"True love is the best thing you'll ever find." — Anonymous
"My dream wouldn't be complete without you in it." – The Princess And The Frog
"I love you very much, probably more than anybody could love another person." – 50 First Date
"You don't marry the person you can live with, you marry the person you can't live without." — Unknown
"You are the butter to my bread, and the breath to my life." – Julia Child.
"Every love story is beautiful, but ours is my favorite."
"Love is like the wind, you can't see it but you can feel it." – Nicholas Sparks
"Loved you yesterday, love you still, always have, always will." – Elaine Davis
"No matter what has happened. No matter what you've done. No matter what you will do. I will always love you. I swear it." – C.J. Redwine
"I have an engagement ring, which is my favorite accessory." – Jules Asner
"Love is not in the ring. Love is in the heart." – Michael Bassey Johnson
Engagement Announcement for Facebook
"In all the world, there is no heart for me like yours. In all the world, there is no love for you like mine." – Maya Angelou.
"Cause you make me feel so brand new, and I want to spend my life with you." — Al Green
"For better or worse, 'til death do us part, I'll love you with every beat of my heart, and I swear." — All-4-One
I wish I had done everything on Earth with you." — The Great Gatsby
"Finally, I have someone who took my hand, opened my mind and touched my heart. Just got engaged to my happily ever after."
"Engagement is not as simple as candlelight and roses. It's day-to-day living, taking time, making time to be there, with open arms and a giving heart. Engagement is the special day where we start our new story of life and I'm happy to be sharing this journey with (name of your love)."
"In your arms, I am happy. Walking with you through life is just everything and more!"
"You rose into my life like a promised sunrise, brightening my days with the light in your eyes. I've never been so strong. Now I'm where I belong." – Maya Angelou
"To be your friend was all I ever wanted; to be your lover was all I ever dreamed." – Valerie Lombardo
"Hey baby, I think I wanna marry you." – "Marry You" by Bruno Mars
Yes, today. Yes, tomorrow. Yes, for all the days of my life.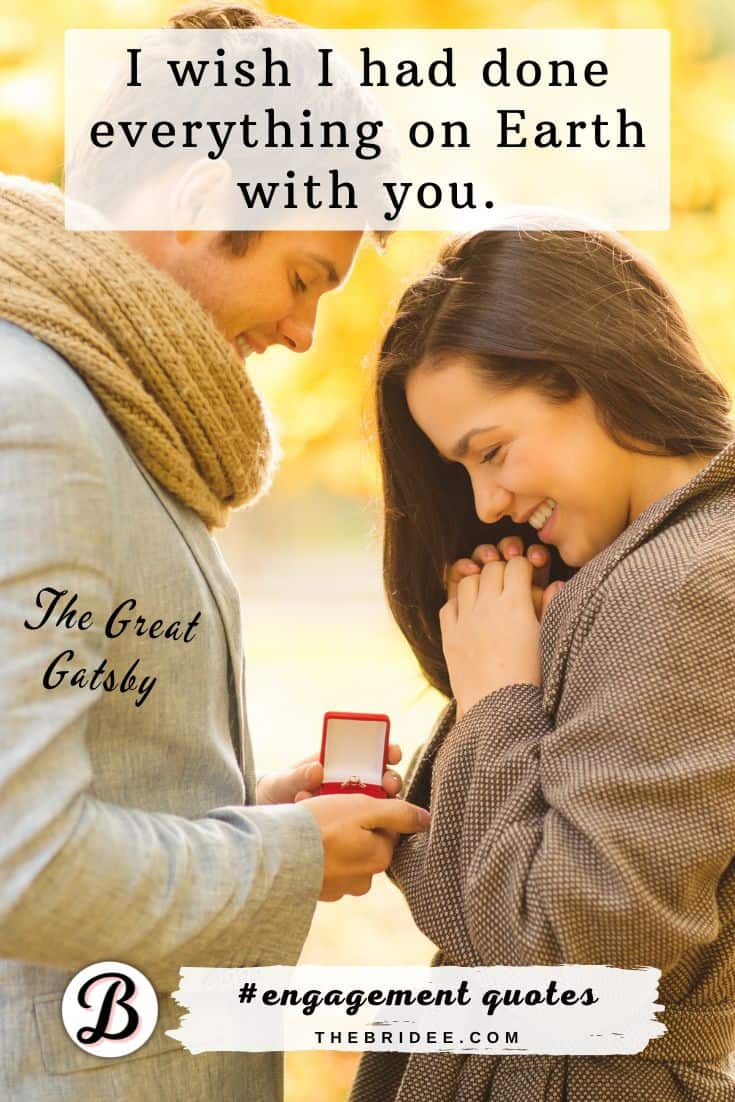 Engagement Sayings
"Life, and love, are precious."
"Anyone can catch your eye, but it takes someone special to catch your heart."
"Love is just a word until someone comes along and gives it meaning. Your love paints a beautiful picture of what love really means."
"My whole heart for my whole life." — French Proverb
"A man without a wife is like a vase without flowers."
"Two souls, one heart."
"Love is a flower which turns into fruit at marriage." – Finnish Proverb.
"Newlyweds become oldyweds, and oldyweds are the reasons that families work."
"I have found the one my soul loves." — Song of Songs 3:4
"A man without a wife is like a vase without flowers." — African Proverb
"Always get married in the morning. That way if it doesn't work out, you haven't wasted the whole day." – Mickey Rooney
"If you have respect and consideration for one another, you'll make it." – Mary Durso.
"Love one another and you will be happy. It's as simple and as difficult as that." – Micheal Leunig.
"Where there is love there is life." — Mahatma Gandhi
"Thee lift me, and I lift thee, and we'll ascend together." — Quaker proverb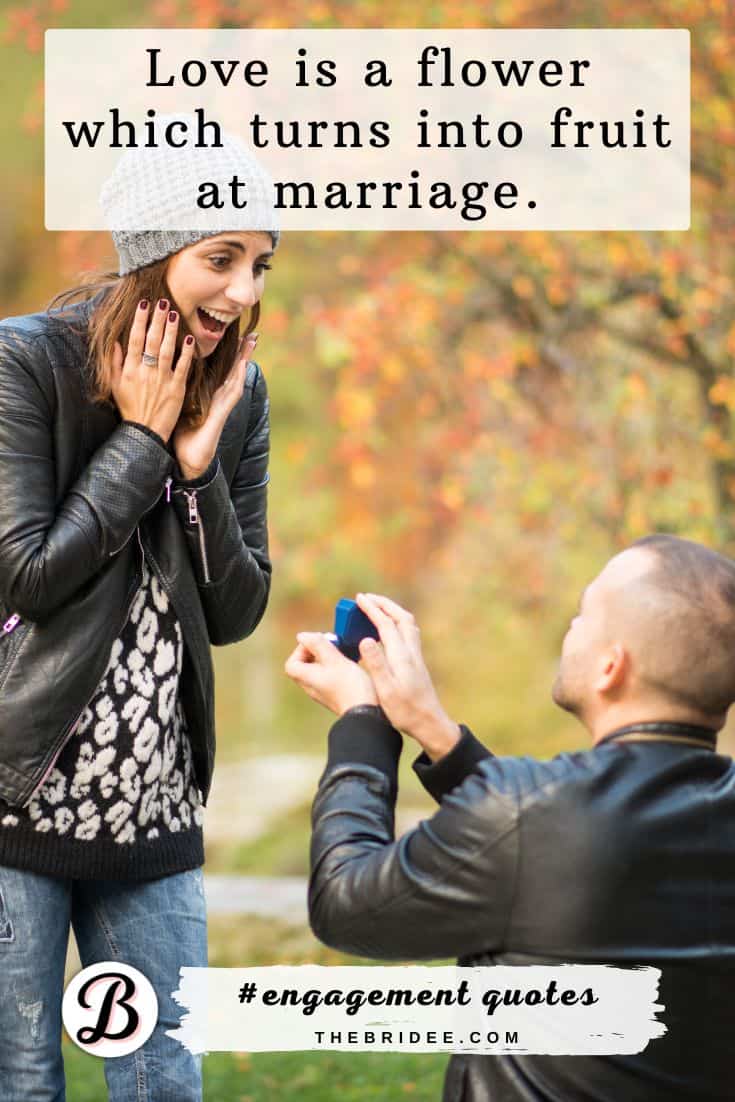 Witty Engagement Quotes
"We're all a little weird. And life is a little weird. And when we find someone whose weirdness is compatible with ours, we join up with them and fall into mutually satisfying weirdness—and call it love—true love." – Robert Fulghum.
"A successful marriage requires falling in love many times, always with the same person." — Mignon McLaughlin
"You don't need to be on the same wavelength to succeed in marriage. You just need to be able to ride each other's waves." – Anonymous
"Marriage is not kick-boxing, it's salsa dancing." – Amit Kalantri
"Between a man and his wife nothing ought to rule but love." — William Penn
"True love is your soul's recognition of its counterpart in another." – Wedding Crashers
Quotes for Engagement Ceremony
"Engagement is the time when you have a clear view of how wonderful your coming life will be. So try to get the best vision of a great and wonderful future waiting for you. " — Unknown
"Ever since time began, people have recognized their true love by the light in their eyes." – Paolo Coelho
"So I take your hand and ask you/Have you made plans for the rest of your life?" — "The Rest of Our Life" by Tim McGraw and Faith Hill
"The real act of marriage takes place in the heart, not in the ballroom or church or synagogue. It's a choice you make—not just on your wedding day, but over and over again -and that choice is reflected in the way you treat your husband or wife." – Barbara de Angelis
"To keep the fire burning brightly there's one easy rule: Keep the two logs together, near enough to keep each other warm and far enough apart—about a finger's breadth—for breathing room. Good fire, good marriage, same rule." – Marnie Reed Crowel
Heart-touching Engagement Quotes
"How do you spell love? You don't spell love. You feel it." – Piglet and Pooh from Winnie The Pooh
It was a million tiny little things that, when you added them all up, they meant we were supposed to be together, and I knew it. I knew it the first time I touched her. It was like coming home, only to no home I'd ever known. I was just taking her hand to help her out of a car, and I knew it. It was like magic." – Sleepless in Seattle
"At the touch of love, everyone becomes a poet" – Plato
Deep Engagement Quotes
"Marriages, like a garden, take time to grow. But the harvest is rich unto those who patiently and tenderly care for the ground." — Darlene Schach
"The best time to love with your whole heart is always now, in this moment, because no breath beyond the current is promised." — Fawn Weaver
"The meeting of two personalities is like the contact of two chemical substances; if there is any reaction, both are transformed." – Carl Jung.
"The sum which two married people owe to one another defies calculation. It is an infinite debt, which can only be discharged through eternity." – Johann Wolfgang Von Goethe.
"Love has nothing to do with what you are expecting to get, only with what you are expecting to give – which is everything,"— Katharine Hepburn
"What greater thing is there for human souls than to feel that they are joined for life—to be with each other in silent unspeakable memories." – George Eliot
"You're my end and my beginning" — "All of Me" by John Legend
"Love is the expansion of two natures in such fashion that each includes the other, each is enriched by the other." — Felix Adler
"We find rest in those we love, and we provide a resting place in ourselves for those who love us." — St. Bernard of Clairvaux
"We start a relationship with someone not only because of how great they are but how great they make us feel. And because they have granted us this extraordinary gift—a chance to experience love, joy, compassion, and security —it is our exclusive privilege to make them feel wonderful about themselves, especially during days when they, themselves, don't feel so wonderful." – Kamand Kojouri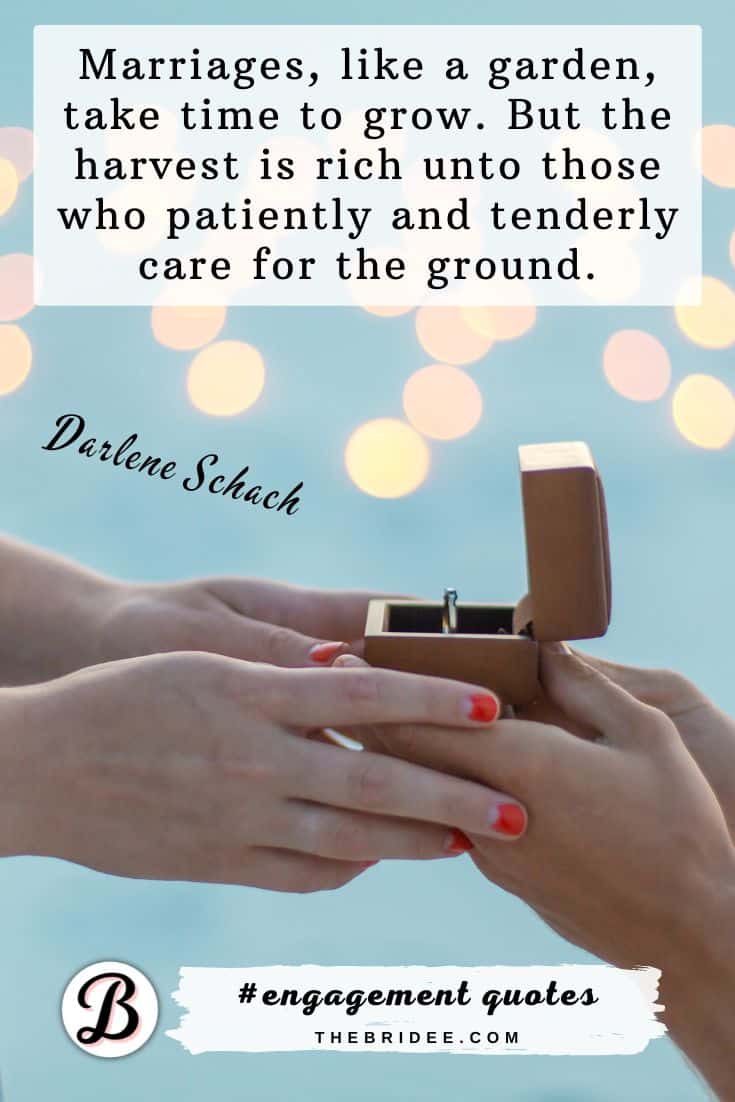 More Engagement Quotes
"Chains do not hold a marriage together. It is threaded, hundreds of tiny threads which sew people together through the years." – Simone Signoret
"You see, there is not much that I want to share with you but my love that is true." ― Anonymous
"I would bend my knee a million times to stand by you." — Jordan Kimball
"It is wrong to think of marriage as hyped bondage. You can marry and still be happy. Everything rests on who you are married to. Marriage is a beautiful thing." – Michael Bassey Johnson
"Marriage is the bond between a person who never remembers anniversaries and another who never forgets them." – Ogden Nash.
"Love at first sight is easy to understand; it's when two people have been looking at each other for a lifetime that it becomes a miracle." – Sam Levenson
"The highest happiness on earth is marriage." – William Lyon Phelps.
"An engagement should come upon a young girl as a surprise, pleasant or unpleasant as the case may be. It is hardly a matter she could be allowed to arrange for herself." – Edith Evans.
"A happy marriage is a long conversation which always seems too short." – André Maurois
True happiness is never found by restricting your engagement with another." – Jeffrey G. Duarte
"Woke up in bed with a gorgeous woman, who I'm going to have lunch and the rest of my life with." – Jason Barmer
"Doubt thou the stars are fire; doubt that the sun doth move; doubt truth to be a liar; but never doubt I love." — William Shakespear
Read also:
Pin quotes on Pinterest:
Love Quotes for Engagement
Funny Engagement Quotes
Did you like these quotes? Share them with your friends!