We have prepared the ultimate collection of the best funny marriage advice.
We have divided these advice into several categories – romantic, creative, funny, clever, unique, cute, happy, inspiring, and more…
Creative Funny Marriage Advice
Mystery in Marriage: "Keep some mystery in your marriage. Turn off the lights and hide behind the furniture. When your spouse comes home, shout, 'SURPRISE!'"
Dress Code: "The secret to a happy marriage? Matching pajamas. You'll laugh so much that you won't have time for arguments."
Decoding Messages: "When your spouse says, 'I need some space,' it might just mean a larger closet."
Gaming Strategy: "Treat marriage like a video game. Sometimes you have to wiggle the joystick to keep things exciting."
Survival Kit: "Every newlywed should be given a survival kit… filled with earplugs, blindfolds, and a sense of humor."
The Age-Old Toilet Debate: "Solve the toilet seat dilemma by getting two toilets. His and Hers. Trust me, it's cheaper than therapy."
Kitchen Chronicles: "Never go to bed angry. Stay up and eat ice cream."
Memory Magic: "Having a bad memory can save your marriage. Forget the bad times and remember the… wait, what were we talking about?"
The Sound of Silence: "Silence is golden. Especially when your spouse is trying to tell you where you went wrong."
Workout Wisdom: "Marriage is a great way to get in shape. From jumping to conclusions to running out of patience."
Truth Serum: "Honesty is key. If you can fake that, you're golden."
The Dance of Love: "Treat marriage like a dance. It doesn't matter if you step on toes, just keep moving to the beat."
Dining Diplomacy: "The way to a man's heart is through his stomach. Just make sure you don't overcook the pasta."
Sleep Strategy: "Let the one who snores fall asleep first."
Chore Chart: "Divide household chores fairly: The one who doesn't cook, does the dishes. The one who doesn't like dishes, orders takeout."
Shoe Philosophy: "In marriage, women collect shoes and men collect… remote controls. The secret? Find a matching pair."
Pet Policies: "If you want someone who's always excited to see you, loyal, and listens to all your problems, get a dog. If you want someone to argue with about the dog's behavior, get married."
Date Night Dynamics: "Always hold hands on a date night. It's romantic and if you don't, one of you might start shopping."
Modern Love: "Marriage in the digital age means never having to say, 'I'm sorry'… without using an emoji."
DIY Romance: "Fixing things around the house is romantic. Remember, nothing says 'I love you' quite like assembling IKEA furniture without arguing."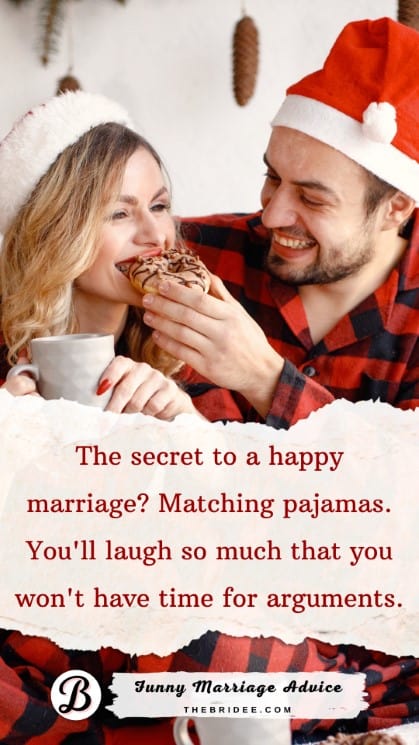 Unique Funny Marriage Advice
Alien Invasion Strategy: "If aliens invade, remember you're a team. Decide who distracts and who goes for the spaceship."
Sock Solidarity: "Unite in the face of the eternal mystery: the disappearing socks. It's not a laundry issue; it's a universal riddle."
Weathering Storms: "In every marriage, there's a kite and a string. When the storms come, decide who's going to soar and who's going to hold on tight."
Ecosystem Engagement: "Think of your marriage as an ecosystem. Sometimes you're the sun, sometimes you're the rain. Both are necessary."
Language of Love: "Create your own secret language. It's romantic and doubles as code talk in awkward social situations."
Time Travelers: "Treat your marriage like a time machine. Remember, going backward is just for understanding, not for staying."
DIY Love Spells: "Make your own love potion: a pinch of laughter, two cups of trust, a dollop of adventure, and a sprinkle of surprise."
Mystery Missions: "Assign each other random missions. 'Bring back something blue from your day.' It keeps life unpredictable."
Magical Doorway: "Whenever you both come home, imagine the door is a magical portal that resets any bad moments from the day."
Parallel Universes: "Remember that in some parallel universe, you two might never have met. Celebrate this universe!"
Treasure Maps: "Draw treasure maps for each other to find small gifts or notes. Love is an adventure, after all."
Galactic Guide: "If you ever find a wormhole to another galaxy, always hold hands. You never know what's on the other side."
Haunted Houses: "If your home ever gets haunted, let the ghosts know they're living with legends. Maybe they'll make coffee for you."
Moonlit Memoirs: "Once a year, write each other letters by moonlight. Open them on a rainy day."
Stellar Wishes: "Wish upon a star, but not for each other. You already caught the best thing in the universe."
Pillow Portal: "Consider your bed a portal to dreamland where you both have superpowers. Always wake up with a new story."
Love Laboratory: "Conduct 'love experiments'. One day, speak only in song lyrics. Another day, communicate only with gestures."
Echoing Eternities: "Whisper secrets into jars and seal them. Open them after a decade."
Hobbit Holidays: "Celebrate fictional holidays from your favorite books or movies. Nothing like a Second Breakfast Anniversary."
Candlelit Cosmos: "Once in a while, turn off all lights, light some candles, and pretend you're the only two souls in the universe."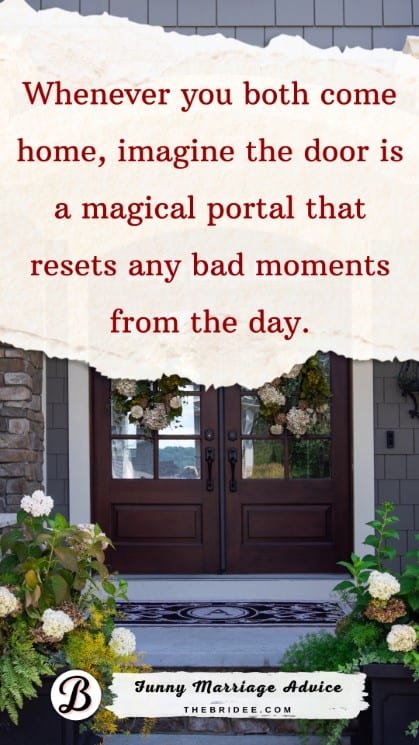 Cute Funny Marriage Advice
Pet Perspectives: "Consider your spouse as a house pet. Feed them, play with them, and remember: if they tear up the furniture, they're just having a bad day."
Cooking Chronicles: "The couple that burns dinner together stays together. Why? Takeout nights!"
Sticker Strategy: "Use gold star stickers. Reward each other for adulting successfully. Yes, making the bed counts."
Playful Proximity: "Remember, if you're not annoying your spouse, you're not close enough. Cuddle closer!"
Floral Fun: "Ladies, if he brings flowers, it's romantic. If it's a potted plant, he's thinking long-term… or he got the wrong section."
Morning Mascot: "If you wake up grumpy… try letting them sleep in a bit more."
Bedtime Battles: "Fighting over blanket space is just a dance routine in disguise. Bonus points for synchronized tossing."
Message Mischief: "Send flirty texts. Even if you're in the same room. Especially if you're in the same room."
Pajama Policy: "Matching pajamas aren't silly. They're couple uniforms. Wear them with pride!"
Sock Solutions: "True love is finding and returning the missing sock… or pretending you didn't steal it."
Love Lingo: "Create goofy nicknames for each other. The more embarrassing in public, the better."
Date Night Dynamics: "A successful date night is when neither of you checks if the other is a food thief."
Chore Charms: "Turn chores into games. Whoever loses makes the snack. Spoiler: Everyone wins."
Choco-Check: "Chocolate solves most problems. The rest? Hugs. Apply generously."
Doorway Drama: "Homecoming rule: Dramatic entrances. Every. Single. Time."
Pillow Plot: "Pillow fights are secret love chats. Just fluffier."
Tickle Tactics: "A surprise tickle attack is a sneaky 'I love you.' Use wisely!"
Couch Comedies: "When the other occupies the whole couch, it's just an invitation to be the human blanket."
Bathroom Ballads: "If they can handle your bathroom singing, it's true love."
Sweet-Toothed Strategy: "In love, as in candy, sharing is caring. But hiding the last piece is also a strategy."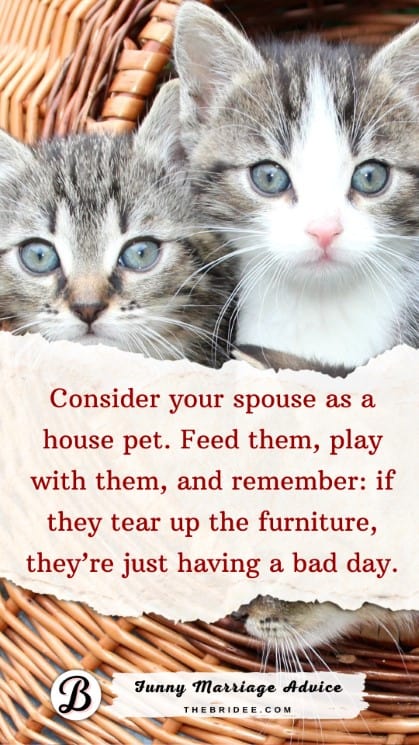 Clever Funny Marriage Advice
Economic Expertise: "Marriage is the only union where you can't just go on strike. However, negotiations over the remote are recommended."
Decoding Dialogue: "When your spouse says 'It's your decision,' understand it as 'Choose wisely, or you'll hear about it forever.'"
Memory Mastery: "Forgetting an anniversary can age you faster. Scientifically unproven, but why take the risk?"
Chore Charts: "A balanced marriage means you both know where the cleaning supplies are. Not using them… just knowing."
Wisdom Wallet: "The quickest way to remember your spouse's shopping list is to forget it once."
Silent Signals: "Silence is golden, unless you're married. Then, it's suspicious."
Recipe Riddles: "The secret ingredient to a happy marriage? Wrong question. It's the secret hiding place for snacks."
Calendar Craft: "Couples' therapy is just syncing your calendars."
Midnight Musings: "If they didn't hear you get up for a midnight snack, did it even happen?"
Laundry Logic: "Love is… finding someone to blame for the lost socks."
Mystery Mechanics: "In every marriage, one person is right and the other… is the husband."
Bedtime Banking: "Invest in a king-sized bed. It's high returns for those 'I need space' moments."
Gift Guidelines: "Gifts are a great way to say 'I love you.' Receipts are a great way to say 'I trust you.'"
Volume Ventures: "A successful marriage is all about volume control. Sometimes on the TV, sometimes on your opinions."
Navigation Nuances: "The couple that gets lost together ensures they have stories for dinner parties."
Dietary Diplomacy: "Couples who diet together, stay miserable together. Better just to order pizza."
Finance Fun: "Always save for a rainy day. And by 'rainy day', I mean shoe sales."
Compliment Calculations: "When in doubt, compliment. When not in doubt, still compliment."
Pillow Protocol: "The number of pillows on the bed is inversely proportional to the husband's understanding of their purpose."
Apology Arithmetic: "An apology is the super glue of lasting marriages. Apply liberally."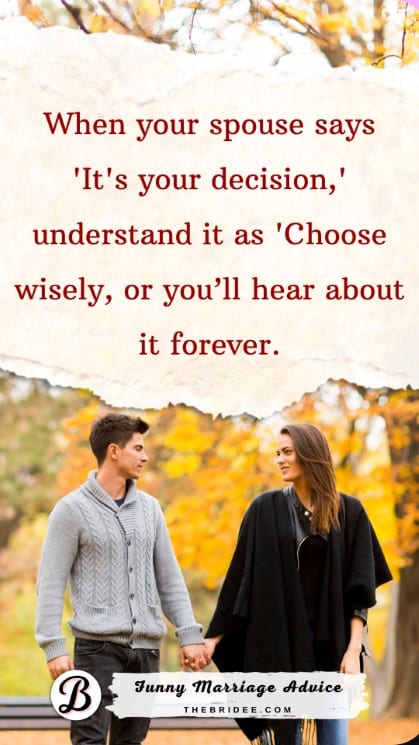 Romantic Funny Marriage Advice
Foodie Flirtation: "They say the way to a man's heart is through his stomach. So, ladies, occasional burnt toast is a reminder that he's lucky to have you."
Cuddle Contract: "Have a strict cuddling schedule. Oversleeping is allowed, over-cuddling is encouraged."
Memory Lane Missteps: "Revisit your first date spot. Remember how awkwardly adorable you both were?"
DIY Serenade: "Sing to your spouse. Even if you sound like a strangled cat, it's the thought (and bravery) that counts."
Remote Control Romance: "The key to a happy marriage? Two remotes."
Whisked Away: "Plan a surprise getaway. Even if it's just to the other room for a change of scenery."
Compliment Confusion: "Tell her she's beautiful every day. And even when she says, 'Are you blind?!' — nod and repeat."
Dancing Delights: "Dance like nobody's watching. Because they're probably not — they're too busy filming for a good laugh later."
Bouquet Buffoonery: "Flowers are a great way to say 'I'm sorry.' So is chocolate. And pizza. Actually, just bring all the food."
Morning Musings: "Kiss each other good morning. It's a great way to start the day and ensures you're both still alive."
Blanket Battles: "Stealing the covers is just a sneaky way to get closer. Remember that during the next 'blanket theft' debate."
Date Night Dramatics: "Have regular date nights. Even if it's just sitting on the couch and judging reality show contestants together."
Gift Goofs: "The best gifts come from the heart… or an online sale. Mostly the sale."
Love Language Laughs: "Learn each other's love language. And if it's sarcasm, you're in for a treat!"
Aromatic Affection: "Light scented candles. They're romantic, and they also cover up the mysterious smells of your shared dwelling."
Wine & Whimsy: "Remember the three most important words: 'Let's order wine.'"
Eternal Echo: "Repeating 'I love you' is essential. Sometimes for emphasis, sometimes because you forgot if you said it five minutes ago."
Shared Showers: "Conserve water, shower together. Just be ready for a battle over temperature settings."
Mirror Magic: "Tell her she's the fairest of them all. Even if the mirror doesn't answer back."
Pillow Talk Tactics: "Discuss your dreams. Especially the one where you both became millionaires by napping."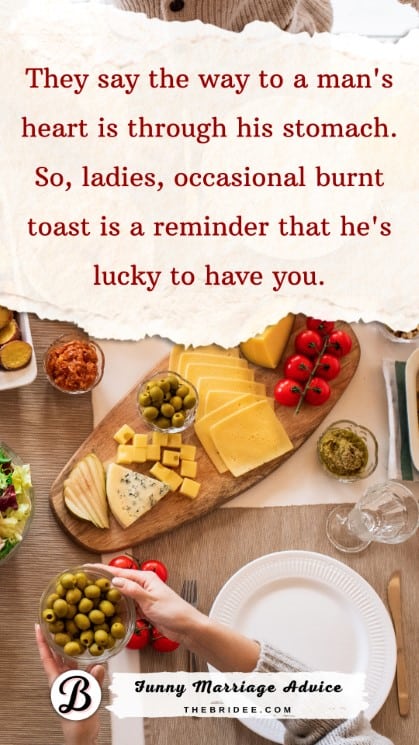 Happy Funny Marriage Advice
Cheerful Chores: "Doing chores together is like a party. A very quiet, cleaning party."
Dancing Delight: "If your spouse is singing off-key, join in. Two off-keys make a right… right?"
Laughing Logistics: "They say laughter is the best medicine. So, if you both laugh at a bad joke, consider yourselves immune."
Smiling Snacks: "Share your snacks. If both of you get chubby, then neither of you can complain."
Morning Mirth: "Start your day with a smile. It makes your spouse wonder what you're up to."
Ticklish Trials: "Life's challenges are less challenging when you're trying not to be tickled."
Jolly Journeys: "Getting lost on a road trip? That's just nature's way of adding more songs to your sing-along session."
Binge-watching Bliss: "Marriage goal: Find someone who considers '5 more episodes' to be an acceptable plan."
Giggling Groceries: "Remember, grocery shopping is a game. Whoever grabs the most fun snacks wins."
Happy Hobbies: "Adopt a shared hobby. Like sleeping in on Sundays."
Dinner Delights: "Cooking together is fun. If the food is bad, at least you have a shared secret."
Sunny Side: "Marriage is about finding the sunny side, even if it's just the sunny side of the couch."
Festive Follies: "Celebrate the small wins, like when you both remember to take out the trash."
Chuckle Charges: "Electricity might charge your devices, but laughter charges your relationship."
Jovial Jeopardy: "Turning chores into game shows can make marriage feel like a non-stop episode of 'Jeopardy!' Just less money."
Amused Agreements: "Compromise means: 'Let's eat what I want tonight and tomorrow, we can eat what I want.'"
Date Night Droll: "Date night at home: because 'dressing up' means wearing your fancy pajamas."
Blissful Bloopers: "Marriage is a series of bloopers. The trick is to keep filming."
Hilarious Harmony: "When both of you sing off-tune, it's a duet. When one of you does, it's a solo opportunity."
Sunny Surprises: "Happiness is…unexpectedly finding extra fries at the bottom of the bag. Share them for extra joy."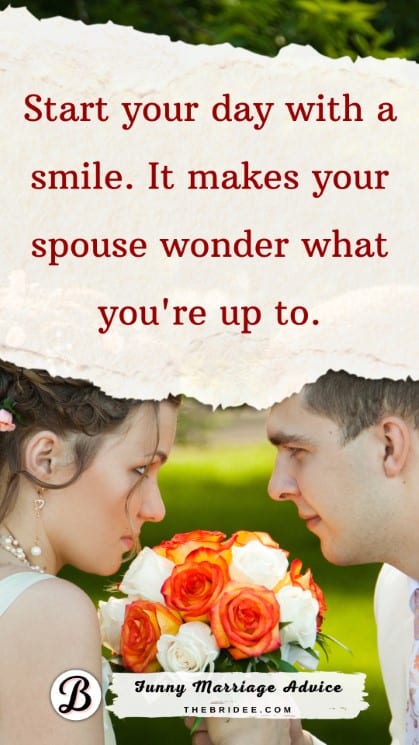 Inspiring Funny Marriage Advice
Goal Giggles: "Aim for a marriage where 'growing old together' means competing who can tell the most embarrassing stories about each other."
Adventure Antics: "The best adventures start with the words, 'Remember when we got lost and…?'"
Dreamy Drills: "Dream big. Even if it's about owning the world's largest collection of matching socks."
Wisdom Whims: "The secret to a happy marriage? Never stop learning. Especially each other's dessert preferences."
Evolving Escapades: "Marriage is like wine. It gets better with time, especially if you occasionally forget where you put the bottle."
Challenge Chuckles: "Tackle life's challenges together. Even if it's assembling IKEA furniture without instructions."
Aspiration Antics: "Strive for a marriage where 'taking out the trash' feels like a noble quest."
Uplifted Urges: "Always lift each other up. Especially when there's a spider on the ceiling."
Resilient Riddles: "Remember, rainy days are just life's way of nurturing growth. And a reason for more cuddles."
Boundless Banter: "The sky's the limit! Except when choosing a movie. Then, compromise is the limit."
Hopeful Hoots: "Keep looking forward. Especially when reminiscing about those 'interesting' haircuts from the past."
Endless Enthusiasm: "Be each other's biggest fans. Even if it means cheering for burnt toast because 'it's a choice.'"
Ambition Amusement: "Aim to be the couple that still races each other to the door, even with walking sticks."
Mirthful Milestones: "Celebrate small victories, like both agreeing on a pizza topping."
Jubilant Journeys: "The journey is the destination, especially when you're lost and find that quaint little café."
Pondering Positivity: "Turn 'What if?' into 'Remember when?' Create stories that'll make your grandkids giggle."
Visionary Vex: "Keep your eyes on the stars and your feet on the ground. And occasionally, check if you're both wearing matching shoes."
Hilarious Horizon: "Expand your horizons together. Even if it's debating the merits of pineapple on pizza."
Quest Quips: "Seek out life's treasures together. Remember, the remote control is one of them."
Reflective Ribbing: "Pause and reflect on your journey. And if the reflection is in a wine glass, even better."
Intimate Funny Marriage Advice
Close Quarters: "They say absence makes the heart grow fonder. Five minutes in separate rooms should do it."
Whispered Wits: "Whisper sweet nothings into each other's ears. Even if it's just the Wi-Fi password."
Eyes and Echoes: "Gaze into each other's eyes deeply. It's intimate, and a great way to check for spinach between the teeth."
Touch and Tickle: "A surprise hug from behind is romantic. A surprise tickle? That's a declaration of war."
Silent Signals: "Develop your own secret language. It's fun, intimate, and helpful for sneaking snacks."
Close-up Comedy: "The couple that brushes their teeth together… spits in harmony."
Cuddling Chronicles: "Snuggle often. And remember, stealing the covers can also be a cuddling invitation."
Bedtime Banter: "Going to bed angry can be bad, but going to bed making funny faces? That's a keeper!"
Heartfelt Hoots: "Remember, the quickest way to the heart is through laughter. Well, and maybe chocolate."
Pillow Talk Play: "Late-night conversations are the best. Especially when they're about which superhero would win in a dance-off."
Dance and Delight: "Dance in your living room. If you step on toes, just consider it a unique way to get closer."
Giggle Goals: "If you can laugh together in your pajamas, you're winning at intimacy."
Affection Antics: "Hold hands frequently. Especially when one of you needs help pulling the other off the couch."
Midnight Munchies: "Sharing a midnight snack in the dim light of the fridge – that's romance."
Bathrobe Bonding: "There's nothing like bonding over shared confusion about how a bathrobe tie works."
Comfort Comedy: "Comfort is whispering secrets. Ultimate comfort is whispering about that weird thing you do with your toe."
Lighthearted Lullabies: "Sing each other to sleep. Even if it's just a rendition of 'Who Let the Dogs Out?'"
Cozy Confessions: "True intimacy is admitting you still have a stuffed animal. True love is not judging… and maybe having one too."
Playful Pecks: "Spice things up with unexpected kisses. Just ensure they're awake first!"
Close-knit Chuckles: "The key to intimacy is laughter. Laugh at the mistakes, laugh at the memories, and occasionally, just laugh because you both snorted."
Philosophical Funny Marriage Advice
Existential Excuses: "If a man speaks in the forest and there's no woman around to hear him, is he still wrong?"
Debate Dynamics: "Before arguing with your spouse, ask yourself: Is the universe deterministic? If so, was the argument predestined?"
Enlightened Errands: "When one door of happiness closes, another opens… but it's probably just the fridge."
Purposeful Pondering: "If marriage is about finding meaning, then lost socks are the universe testing our patience."
Temporal Teasing: "In the grand scale of time, forgetting to take out the trash for one day is insignificant. But try explaining that to your spouse."
Quantum Quips: "Love is like quantum physics. Entangling, inexplicable, and observers change the outcome."
Philosophical Pillows: "To hog or not to hog the bed covers, that is the nightly question."
Destiny Droll: "Some say marriages are made in heaven. So are thunder and lightning."
Reality Riddles: "If you say 'sorry' but your spouse didn't hear it, did the apology really happen?"
Existence Echoes: "In the vast universe, what's the purpose of the decorative pillows on the bed?"
Cogitation Comedy: "They say 'I think, therefore I am.' But after a marital argument, it's 'I think, therefore I might be in trouble.'"
Timeless Teasers: "Time is relative. Waiting for your spouse to get ready? Very relative."
Truthful Tangents: "In the grand scheme of life, is the toilet seat being up or down really the ultimate truth we seek?"
Perception Pranks: "Beauty is in the eye of the beholder. So is the 'correct' way to load a dishwasher."
Deep Daydreams: "If life's journey is the destination, then are detours just bonus content?"
Consciousness Chuckles: "Is self-awareness realizing you're both weird, or just accepting it?"
Universal Urges: "In an infinite universe, there's a planet where both of you always agree on dinner choices."
Reflection Ribbing: "If mirrors reflect our reality, why doesn't mine show me as the morning person I claim to be?"
Cosmic Comedy: "Love is the force that holds the universe together. And also the force that can't remember where the car keys are."
Mystical Mirth: "Seek to understand the mysteries of the universe. And also why one sock always goes missing after laundry."
Biblical Funny Marriage Advice
Eden Escapades: "If your spouse ever blames something on a serpent, maybe give them a second chance."
Noah's Nuisance: "Remember, even Noah had to deal with complaints about the 'cruise' he planned."
Red Sea Reasoning: "If you ever feel stuck, remember Moses. Sometimes you have to make your own way through the 'seas' of dirty laundry."
Goliath Giggles: "Marital issues might seem like Goliath. But with teamwork, you've got more than a slingshot."
Manna Munchies: "Hunger can make anyone grumpy. Remember the manna; always have snacks ready."
Job's Jests: "Having patience in marriage is like Job's trials. At least you aren't covered in boils (hopefully)."
Samson's Strength: "Your love might be as strong as Samson, but maybe don't test it with a haircut."
Jonah Jokes: "Feeling swallowed up by marriage's challenges? Remember Jonah – sometimes, you just need a time-out in a big fish."
Babel Banter: "Communication is key. Otherwise, you'll be building different towers of Babel in no time."
Solomon's Silliness: "Wisdom is vital. But even Solomon would've been stumped by the 'where should we eat?' question."
Jericho Jaunts: "Some days marriage might feel like marching around Jericho. But keep going, and walls will fall (just not the ones of the house, we hope)."
David's Dance: "When in doubt, dance it out. If King David can dance in joy, so can you – even if it's in your living room."
Burning Bush Banter: "Listening is crucial. Your spouse's hints might not be as clear as a burning bush, but they're close."
Lazarus Laughs: "Revive your date nights regularly. Not everyone has Lazarus' comeback skills."
Loaves & Fishes Funnies: "When cooking dinner feels overwhelming, remember the miracle of loaves and fishes. Or takeout. Takeout works too."
Prodigal Partner: "When one of you forgets to do the chores, be like the father of the prodigal son – always ready to welcome back (but maybe with a broom)."
Daniel's Den: "When in-laws visit, channel Daniel's bravery. But hopefully, your den is lion-free."
Moses' Maps: "Trust your journey. Even Moses took a while in the desert. Though, maybe use GPS for road trips."
Esther's Elegance: "Speak your mind in your relationship. Like Esther, sometimes you've got to take the lead (and save the day)."
Peter's Perseverance: "If you ever feel like you're sinking amidst life's storms, reach out. Marriage means having someone to pull you up – and maybe laugh about it later."
Joyful Funny Marriage Advice
Sunshine Shenanigans: "Always be the sunshine in your spouse's rainy day. But if they're being too gloomy, feel free to shine a flashlight in their face."
Laughing Luxuries: "Shared laughter is the best luxury honeymoon suite money can't buy."
Tickle Tips: "Never underestimate the power of a spontaneous tickle fight. It's like marriage cardio."
Happiness Hints: "The secret to a joyful marriage? Dance-offs. The sillier the moves, the better."
Elation Elevations: "Reach new heights of joy together. Even if it's just jumping on the bed."
Cheerful Chores: "Turn chores into joyful challenges. First one to finish gets to control the TV remote!"
Delightful Dates: "Surprise dates can double the joy. Even if it's just to the backyard for a picnic."
Blissful Bloopers: "Embrace your joint bloopers. They're the outtakes reel of your love story."
Ecstatic Elbowing: "Being each other's nudge of encouragement. Even if it's a literal elbow nudge to pass the popcorn."
Giggle Goals: "Prioritize what makes both of you giggle like kids. Like pretending the floor is lava."
Merriment Mantras: "Adopt a joy mantra for the tough days, like 'At least we have each other… and cookies.'"
Jubilant Jingles: "Make up silly songs about your day. It's a joyful way to catch up and get laughs."
Whimsical Winks: "A cheeky wink can turn any mundane moment into a shared joke."
Rapture Recipes: "Discover joy in experimenting with weird recipes. Unicorn spaghetti, anyone?"
Euphoric Escapes: "Plan occasional escapes from reality. Build a blanket fort or pretend the sofa is a spaceship."
Jovial Jests: "Keep a jar of joy: little notes of all the funniest things you've said to each other."
Glee Guarantees: "Whenever one of you is down, have a guaranteed 'cheer up' action, like a goofy dance."
Lighthearted Leaps: "Literally and figuratively, leap into joy. Jumping photos are a good start!"
Pleasure Pranks: "Keep the joy alive with harmless pranks. But remember, it's all fun and games until the whipped cream comes out."
Thrilled Thank-Yous: "Always find reasons to say thank you with a big grin. Especially if it's for 'putting up with my awful puns.'"
Memorable Funny Marriage Advice
Snapshot Shenanigans: "Your most embarrassing photos together will be the most cherished. Yes, even that one where you both fell in the cake."
Epic Episodes: "The greatest adventures start with the words 'We probably shouldn't, but…'"
Storybook Stumbles: "Every great love story has a few blunders. If nothing else, they're great for dinner party tales."
Legendary Lip Sync: "Create unforgettable memories with impromptu lip sync battles in the living room."
Memento Mockery: "Collect souvenirs of your goof-ups. They make for legendary stories."
History Hoots: "Always remember the first time you both laughed until you cried. Aim to recreate it often."
Chronicle Chuckles: "Document your funniest moments. They'll be the tales of legends for your grandkids."
Timeless Teasers: "Remember the first prank you played on each other. Anniversary reenactments are a must."
Hallmark Hiccups: "Celebrate not just your milestones but also your laugh-out-loud missteps."
Keepsake Kicks: "Dancing like no one's watching might be a cliché, but it sure makes for a memorable evening."
Heritage Hahas: "Build traditions out of your most hilarious mishaps. Burnt the turkey? Looks like pizza is your new Thanksgiving tradition."
Iconic Incidents: "Turn your most iconic bloopers into yearly celebrations. 'Remember when we got lost for hours? Happy Getting Lost Day!'"
Classic Capers: "Remember that time you both tried DIY? Commemorate it with a crooked shelf."
Remarkable Ridicules: "Your kids might not remember your wise lessons, but they'll never forget the time you both tried rollerblading."
Archive Amusements: "Your silliest selfies together will be your most treasured archives."
Historic Hilarities: "Celebrate not just anniversaries, but also the first time you both failed hilariously at karaoke."
Record-setting Roars: "Always aim to break your own record for 'longest shared laughter.'"
Vintage Vexations: "Your mishaps become vintage memories. Like the first time you tried camping… in the backyard."
Heirloom Humor: "Your funniest stories are your real heirlooms. Pass them down."
Nostalgic Nudges: "Years down the line, it won't be the perfect moments but the hilariously imperfect ones you'll reminisce about most."
Supportive Funny Marriage Advice
Backup Blunders: "Always have your spouse's back. Even if it's to confirm their alibi for eating the last cookie."
Helpmate Hahas: "Being supportive means laughing at their jokes. Yes, even if you've heard them 100 times."
Cheerful Champions: "Root for them as passionately as you do for your favorite TV series finale."
Encouraging Errands: "Show your support by taking on their most hated chore. But maybe use it as a bargaining chip later."
Moral Boost Muffins: "A surprise batch of muffins can be a great morale boost. Especially if they're topped with a 'You're Right' icing."
Affirmation Antics: "Slip supportive notes in their pockets. 'You're amazing! But don't forget to take out the trash.'"
Backup Buffoonery: "Always agree with them in public. Discuss the alien conspiracy theories in private."
Solidarity Snickers: "Wearing matching ridiculous outfits can be a sign of undying support. Or that you both lost a bet."
Pep-talk Pranks: "Sometimes the best support is a surprise water balloon pep-talk."
Assurance Antidotes: "When they're in doubt, offer a dose of confidence with a side of silliness."
Encouragement Escapades: "Plan surprise adventures to remind them life (and marriage) can be a delightful mystery."
Backbone Banters: "Being their backbone means sometimes tickling their funny bone."
Supportive Silliness: "A silly dance can be as uplifting as a deep conversation."
Lifting Larks: "Lift their spirits. Even if it's by just lifting the toilet seat."
Endorsement Elbows: "A gentle elbow nudge can say 'I've got your back,' especially when they're about to walk into a pole."
Comical Comforts: "Comfort them with humor. When they've had a bad day, remind them of the time you both tried to assemble that impossible IKEA piece."
Respectful Ribbing: "Show respect with playful teasing. Because nothing says 'I adore you' like pointing out their mismatched socks."
Bolstering Buffoonery: "Boost their confidence by being the biggest (and funniest) cheerleader they've ever seen."
Safeguard Shenanigans: "Protect their secrets. Especially their secret love for cheesy pop songs."
Stalwart Spoofs: "Stand by them, through every goofy moment and every cake-face smash."
Pin marriage advice on Pinterest:
Creative Funny Marriage Advice
Romantic Funny Marriage Advice
Did you like these advice? Share them with your friends!