Are you celebrating several years since your wedding and would you like to commemorate your big day?
We've prepared a list of wedding anniversaries and their names by year. Here you will find inspiration for a gift and a flower typical for each anniversary.
1st Wedding Anniversary = Paper Wedding
According to tradition, the first anniversary was celebrated with gifts made of paper. In the past, the couples followed the tradition of making a paper boat and launching it together – a symbol of their united journey through life.
A flower suitable for the first anniversary is the Carnation.
An interesting fact is, that some European countries call the 1st wedding anniversary a Cotton Wedding, while the second wedding anniversary is a Paper one.
2nd Wedding Anniversary = Cotton Wedding
As the name suggests, the second anniversary is associated with a gift of cotton. Most often the couple gave each other cotton handkerchiefs. Cotton is a symbol of strength and softness. For a couple, it is a symbol of learning how to be flexible and adapt to each other's needs.
A suitable flower for a second wedding anniversary is the Lily of the valley.
3rd Wedding Anniversary = Leather Wedding
Leather is a durable material that symbolizes the stability and protection of the marriage from outside elements. That is why leather has become the traditional gift for the 3rd wedding anniversary celebration.
The flower for the Leather anniversary is a Sunflower (some sources also mention Fuchsia).
4th Wedding Anniversary = Floral Wedding
Four years together should be celebrated with a proper bouquet. Sometimes this anniversary is also called a Fruit wedding, and in the UK it's called the Linen and Silk anniversary.
Whether you choose a fruit basket, a bouquet of Hydrangeas (which are associated with the fourth anniversary), or opt for a wine-tasting trip, you can be sure that your beloved will be delighted!
5th Wedding Anniversary = Wooden Wedding
The symbol of the fifth anniversary is wood. The tree symbolizes strength and wisdom. Just as its roots grow deeper, your relationship grows stronger as the years go by.
The flower of the 5th anniversary is the Daisy and as a gift, it is customary to give something wooden, whether a piece of jewelry, decoration or perhaps a sturdy kitchen cutting board.
6th Wedding Anniversary = Iron Wedding
In addition to the Iron anniversary, the sixth anniversary is sometimes called the Sugar anniversary (mainly in the UK). Why iron and sugar? Well, iron is a strong and sturdy metal that brings good luck, and sugar is a symbol of sweet romance in your marriage.
The flower of this anniversary is the Calla Lily.
7th Wedding Anniversary = Wool Wedding
A wool wedding (sometimes also called a copper wedding) is celebrated after 7 years of marriage. Wool symbolizes warmth as well as security and stability in your relationship. An appropriate gift then is perhaps just a wool sweater.
The flower of the seventh anniversary is the Freesia.
8th Wedding Anniversary = Bronze Wedding
A bronze wedding is a designation for your eighth anniversary. In Germany, the 8th anniversary is also referred to as a tin wedding anniversary. And besides bronze jewelry, the right gift for this anniversary is a bouquet of Lilacs.
9th Wedding Anniversary = Pottery or Clay Wedding
The traditional gifts for a 9th wedding anniversary are ceramic products like teacups or even pots!
The flower of the ninth anniversary is a Bird of Paradise.
10th Wedding Anniversary = Tin wedding
10 years together is the first epic milestone of your marriage, it's called a tin wedding. The gift for a decade together should be made of tin as a symbol of preservation and longevity.
The flowers of the tenth anniversary are Tulips.
11th Wedding Anniversary = Steel Wedding
The 11th wedding anniversary is popularly known as the Steel Anniversary. Steel is the traditional gift as it is one of the strongest and most durable metals in the world.
The flower of the 13th anniversary is a Daffodil.
12th Wedding Anniversary = Silk Wedding
You can celebrate twelve years together with a gift of silk, such as a scarf. Or if you want some modern kind of gift – you can go together and visit Asia and its silk trade routes!
Your partner will be delighted with a bouquet of Peonies, which are the flower of this anniversary.
13th Wedding Anniversary = Lace Wedding
Maybe the number 13 is sometimes associated with misfortune, but not in the case of your 13th wedding anniversary – the Lace anniversary. Lace embodies the refined beauty and elegance of your marriage.
A bouquet of Chrysanthemums is a traditional gift for the thirteenth anniversary.
14th Wedding Anniversary = Ivory Wedding
The fourteenth anniversary is called an Ivory wedding. As you know, many countries banned the import of ivory products because there was a big threat to the elephant population. The great alternative to ivory is an Opal. Opal jewelry is a popular gift for the 14th anniversary nowadays.
A bouquet of Orchids or Dahlias is typical for this anniversary.
15th Wedding Anniversary = Crystal Wedding
The fifteenth anniversary is called a glass or crystal wedding. Crystal symbolizes clarity and transparency; it represents the deep personal investment a couple has made in their marriage. The stone of this anniversary is Rhodonite. Jewelry with cut glass is also a perfect gift.
Roses are the flowers of the Crystal anniversary.
20th Wedding Anniversary = Porcelain Wedding
Twenty years since the wedding is referred to as a porcelain wedding. Porcelain or china is a perfect symbol for this anniversary as it might be fragile at times, but it is also durable and long-lasting, the same as your love. Porcelain is also s a traditional gift for the 20th wedding anniversary.
The flower of the 20th anniversary is the Aster. And the gemstone is an Emerald.
25th Wedding Anniversary = Silver Wedding
Your 25th wedding anniversary is one of the significant ones – a quarter-century together. That needs a big celebration. It's called a silver wedding (it's a half to the golden wedding). Many couples choose to celebrate their anniversary with family and loved ones. Some can plan a luxurious holiday just for themselves. A typical gift is a silver jewelry.
The anniversary flower is Irise and the gemstone is green garnet (called Tsavorite).
30th Wedding Anniversary = Pearl Wedding
Thirty years since the wedding is called Pearl Wedding, so don't forget to incorporate pearls into the gift, or invite your loved one to a seafood dinner. Pearls symbolize hidden beauty, purity, charity, honesty, wisdom, and integrity.
The flower of the anniversary is a Lily.
35th Wedding Anniversary = Coral Wedding
The thirty-fifth anniversary is referred to as a coral wedding. Coral has been attributed with magical powers in the past. Coral is a symbol of strength and longevity of the marriage union. This anniversary is also referred to as a linen or linen wedding.
A typical flower for a 35th anniversary is a coral-colored bouquet.
40th Wedding Anniversary = Ruby Wedding
The 40th wedding anniversary is called a Ruby wedding. The Ruby can also be given as a gift. Rubies can also be substituted with red wine.
The anniversary flower is Nasturtium.
45th Wedding Anniversary = Sapphire Wedding
The forty-fifth anniversary is called a Sapphire wedding. The gift of a blue sapphire symbolizes your lasting affection for each other. It is said that if the love of the one being gifted fades, the sapphire will turn green.
A flower suitable for the first anniversary is the Blue Iris.
50th Wedding Anniversary = Golden Wedding
A golden wedding is a very significant anniversary, it has been celebrated for hundreds of years. After 50 years, it's a great idea to repeat the ceremony and renew the vows. The traditional gift is usually golden jewelry. The couple can also exchange new wedding rings during the ceremony.
The bouquet of a golden wedding is yellow roses.
55th Wedding Anniversary = Emerald Wedding
Five years after your golden wedding, the Emerald wedding awaits. Again, the tradition says that if the emerald stone changes its color, your love is unfaithful. That's why the emerald is worn as a symbol of devotion.
Flowers suitable for the 55th anniversary are green foliage plants.
60th Wedding Anniversary = Diamond Wedding
After sixty years together comes the Diamond wedding. The diamond symbolizes strength and undying love for one another. In Greek, diamond even means "impregnable", just like a relationship after 60 years.
A flower suitable for the 60th anniversary is Iris.
65th Wedding Anniversary = Blue Sapphire Wedding
After 65 years of marriage, the relationship is as strong as a rock. That's also why the 65th anniversary is somewhere called a Stone wedding anniversary.
A typical flower is a Blue Hydrangea.
70th Wedding Anniversary = Platinum Wedding
Platinum wedding anniversary celebrates 70 years of relationship. Only a few couples celebrate a platinum wedding and it is usually the family who helps their parents or grandparents with their celebration.
A flower suitable for the 60th anniversary is a Peony Rose.
75th Wedding Anniversary = Coronation Wedding
The 75th anniversary is called the Coronation wedding. Some sources also mention a diamond and gold.
A proper flower for this anniversary is a bouquet of white roses.
Whatever wedding anniversary you celebrate, remember your love. Take a trip somewhere or enjoy a lovely evening together at home and remember what it was like on your wedding day all those years ago.
Read also:
Pin wedding anniversary names on Pinterest: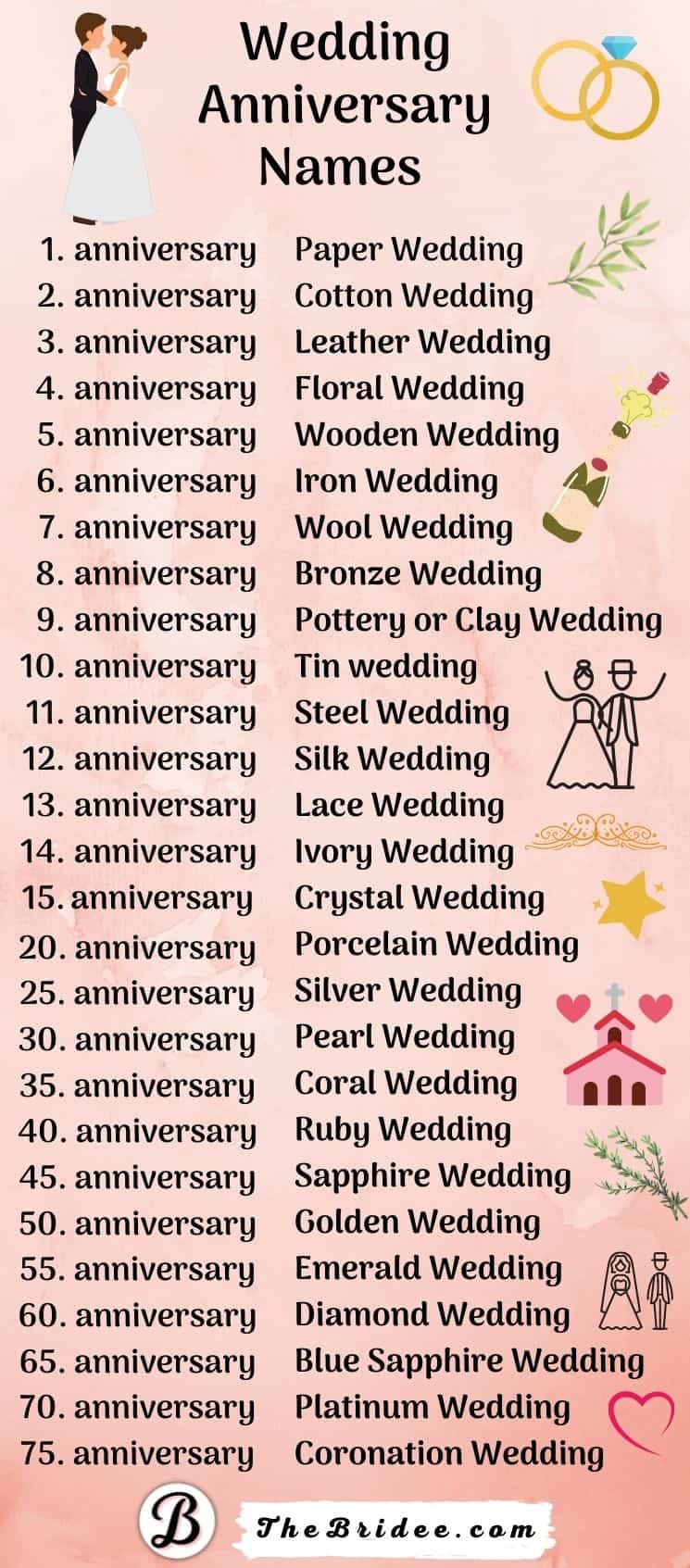 Did you like these wedding anniversary names? Share them with your friends!