Do you seek engagement captions to post on social media such as Instagram, Facebook, TikTok, or any other? You have found the right place!
We have divided engagement captions into several categories – best, cute, for him, for her, funny, and more…
Best Engagement Captions
This is another chapter of the story that we are writing together.
He stole my heart, so I'm stealing his last name.
When you realize you want to spend the rest of your life with someone, you want the rest of your life to start as soon as possible.
My whole heart for my whole life.
I can't keep calm, I'm getting married.
Cheers to forever.
And so the adventure begins.
I already knew you were the one, but now I have proof.
Can't wait to grow old together.
This is the next page of our love story.
Here's to love and laughter and happily ever after.
Got my seat and partner reserved for the longest journey called 'LIFE'.
If you need me, I'll be over here planning my wedding.
Woke up a fiancé.
A crazy little thing called forever.
I want to live my life with you.
I've got the whole world on my hand.
Left home with a boyfriend/girlfriend, came back with a fiancé/fiancée.
Life just got a lot more sparkly.
You're my one and only.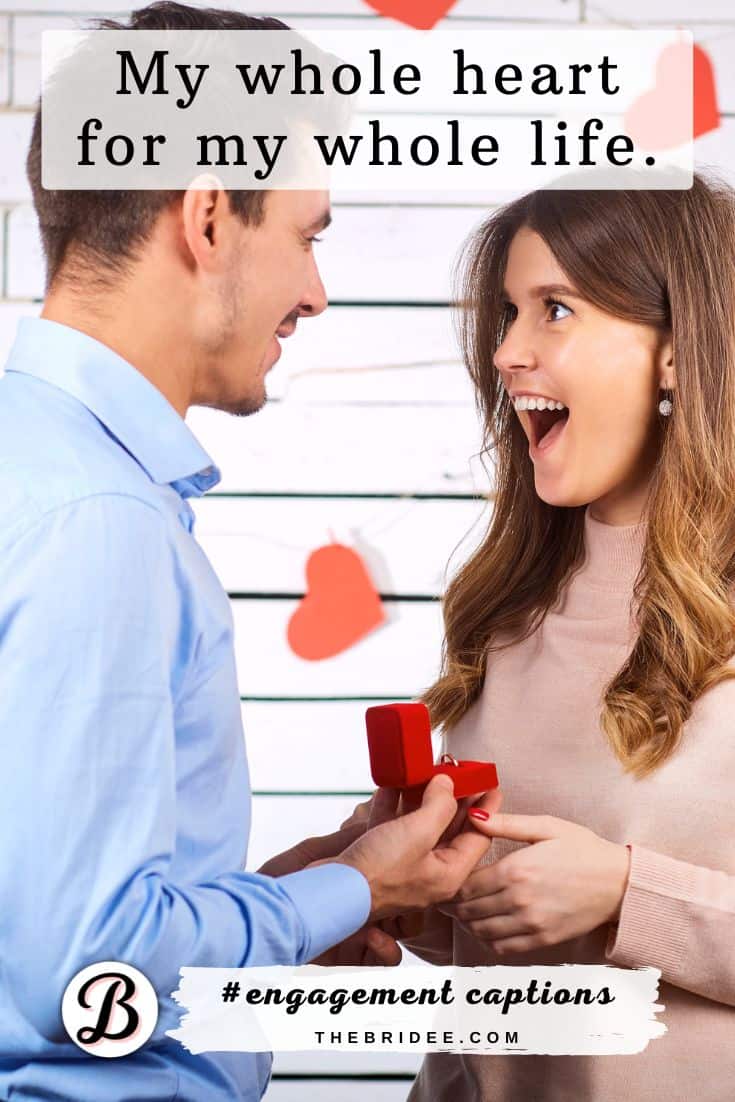 Cute Engagement Captions
I always knew you were my soulmate.
Meet my forever.
Looking forward to spending forever with you.
We've decided on forever.
All I need for true happiness is having you by my side.
Two souls, one heart.
Every time I think I know the reason why you're the one, you give me another reason to add to the list.
Pardon me while I shine a little brighter for a bit.
Watch while I turn Miss to Mrs.
The fairytales weren't lying after all.
Never in my wildest dreams could I have imagined a love this sweet.
Putting the soul in soulmate.
This is what dreams are made of.
Felt cute, might get married later.
I found the one whom my soul loves.
One-way ticket to the rest of our lives.
I'm ready to be yours forever.
My first name + your last name = true love
Found my Genie in a bottle. All three wishes came true.
I swear I couldn't love you more than I do right now, and yet I know I will tomorrow.
You're my destiny.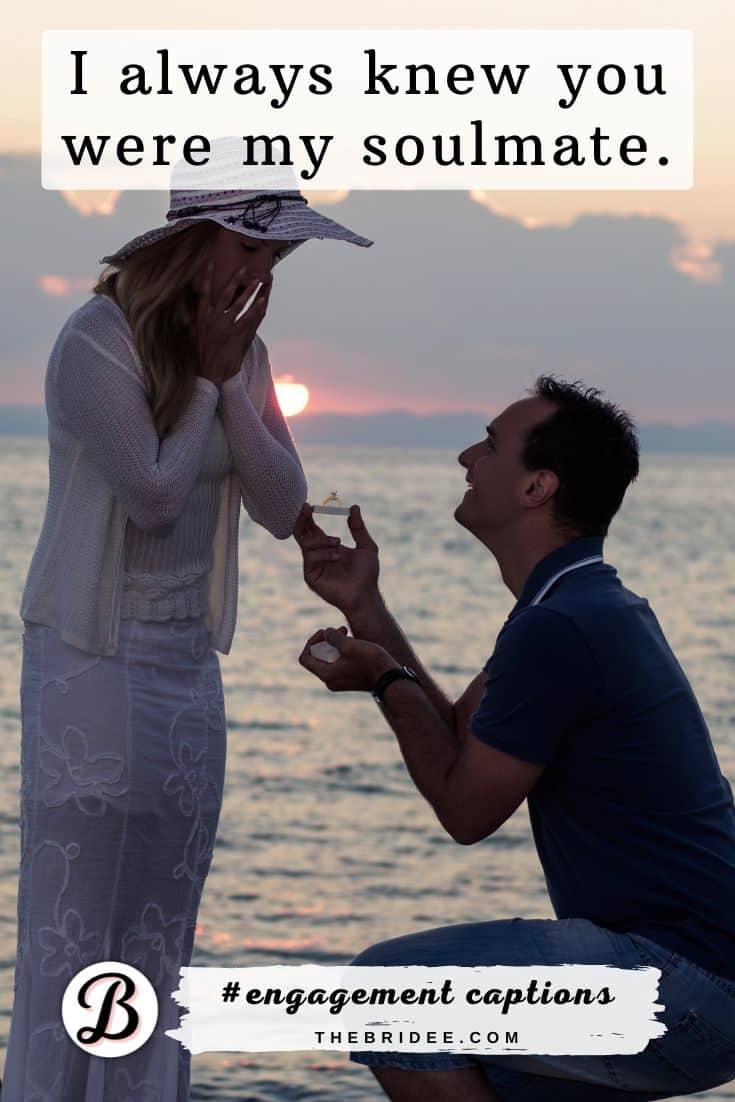 Funny Engagement Captions
Two fewer fish in the sea.
It's so great to find that one special person you want to annoy for the rest of your life.
Finally, I have an excuse to change my last name.
Can't wait to be weird together for the rest of our lives
Ari might have seven rings, but all I need is this one
Does this ring make me look engaged?
Low-quality manicure, high-quality fiancé
Engaged sure does have a ring to it.
Now you're stuck with me forever and always.
Officially off the market.
Level Completed.
I have found someone who stole my heart and gave his own to me.
Engagement advice: make sure the ring is really tight so it can never be taken off!
Like Beyoncé, but switch the "B" for an "F."
Today's forecast is shiny with a 100% chance of marriage.
No longer available.
Thank God I swiped right.
The winner of my roster.
I guess you could say it's serious.
Here comes the wedding spam.
Time to start shopping for the wedding!
Today, I added extra sugar to our love. I don't think it will cause diabetes.
Keep calm and say 'Engaged.'
Who said Tinder/Hinge/Bumble was just for hook-ups?
I guess we're stuck together now.
Mission complete!
Pop the bubbly, I'm getting a hubby!
Heading towards the chapel soon! Who's coming?
Let's go shopping, girls. I got the Rock!
Meet my former boyfriend……. He is my fiance now!
Engagement party for two, pls.
A Tinderella story.
You could say it was love at first swipe.
Got so bored we decided to get engaged.
How much is a wedding again?
We looked around the house and realised we could really do with upgrading our stuff, so this was what we came up with.
Being called your fiancé is okay but being called your "better half" is more accurate!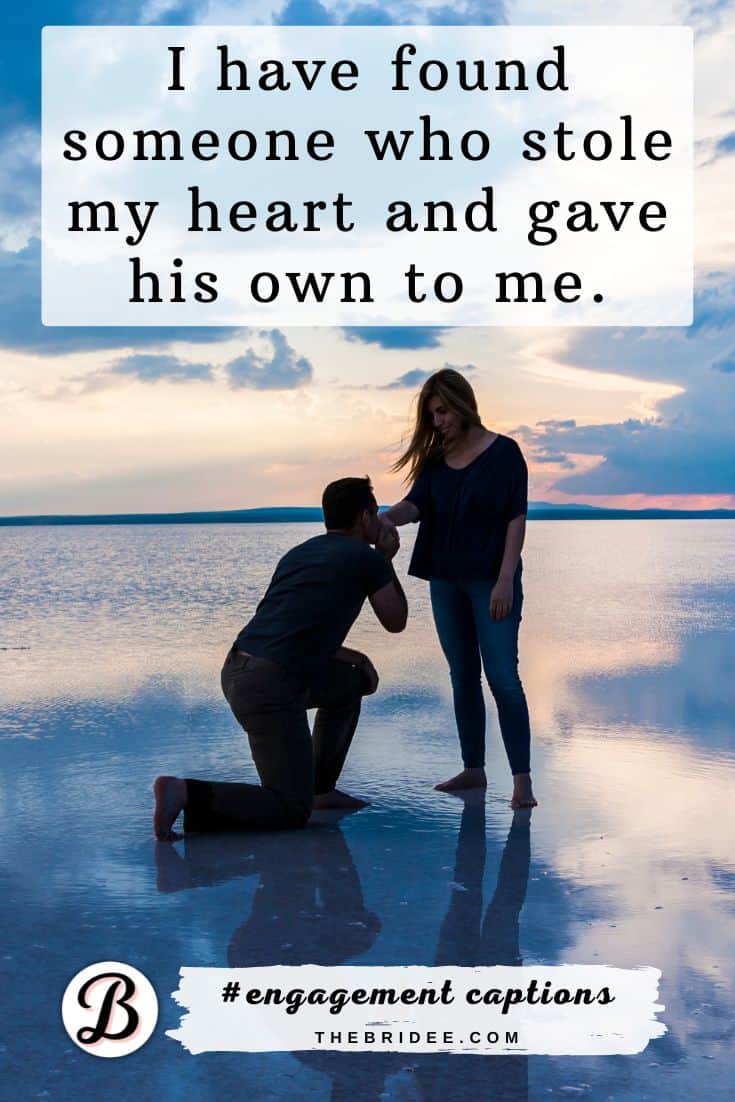 Witty Engagement Captions
New level unlocked: fiancé.
Some knots are meant to be tied forever.
My heart is lighter, my hand is heavier.
Making the next step in our lives together.
Finally, I have someone who took my hand, opened my mind and touched my heart. Just got engaged to my happily ever after.
An engagement marks the end of a whirlwind romance and the beginning of an eternal love story.
From this day forward, you shall not walk alone.
If my heart is the sky, it is now engaged to the most precious star.
My heart will be your shelter, and my arms will be your home.
The next stage of our life.
To my hubby to be: get ready to pay for two tickets to watch one movie.
Looks like a wedding is in the forecast.
Thinking of you keeps me awake. Dreaming of you keeps me asleep. Being with you keeps me alive.
You probably saw this one coming.
Engaged to assist you in every walk of life.
My heart is full (and my hand is heavy!)
Simple Engagement Captions
Soooo, this happened.
Best surprise ever.
I feel complete.
Forever and then some.
The best day of my life.
You complete me
My soulmate.
Partners for Life
It's only the beginning…
Dreams do come true. I found you.
An everlasting love for me.
Mr. and Mrs. coming soon.
When you know, you know.
All mine.
Forever & more.
A lifetime of us.
Hello world. I got engaged to the love of my life!
Feels fantastic with my new commitment!
Just got engaged a few hours back.
He kneeled, showed the ring, and made me his to-be bride.
It's a beautiful day to get engaged.
Found my perfect match.
Engagement Captions for Him
I want to live my life with you.
I look at you and I know I'm home.
Finally, I engaged to my charming princess.
Announcing Bachelor's party real soon.
I already knew we were soulmates.
Meet my to-be bride!
Wish me luck, I am taken forever.
To be hubby in the next few months!
No one else I'd rather do life with.
I've been dreaming of this moment since I met you.
She said YES!
I get to marry my best friend.
Sh*t just got real!
Sorry girls! She forcefully placed a ring on my finger.
She's the one for me, and I bought the ring to prove it!
My best friend is engaged…….to me!
She got the ring, but I got the real prize.
I can't believe she said YES!!!
She said yes! I'm the luckiest guy in the world.
Loving you is easy.
I always knew you'd be my forever.
The rumors are true. She said yes!
It's no contest, I'm the luckiest man alive.
My best friend just became my fiancé.
Guess I'm going to be a husband!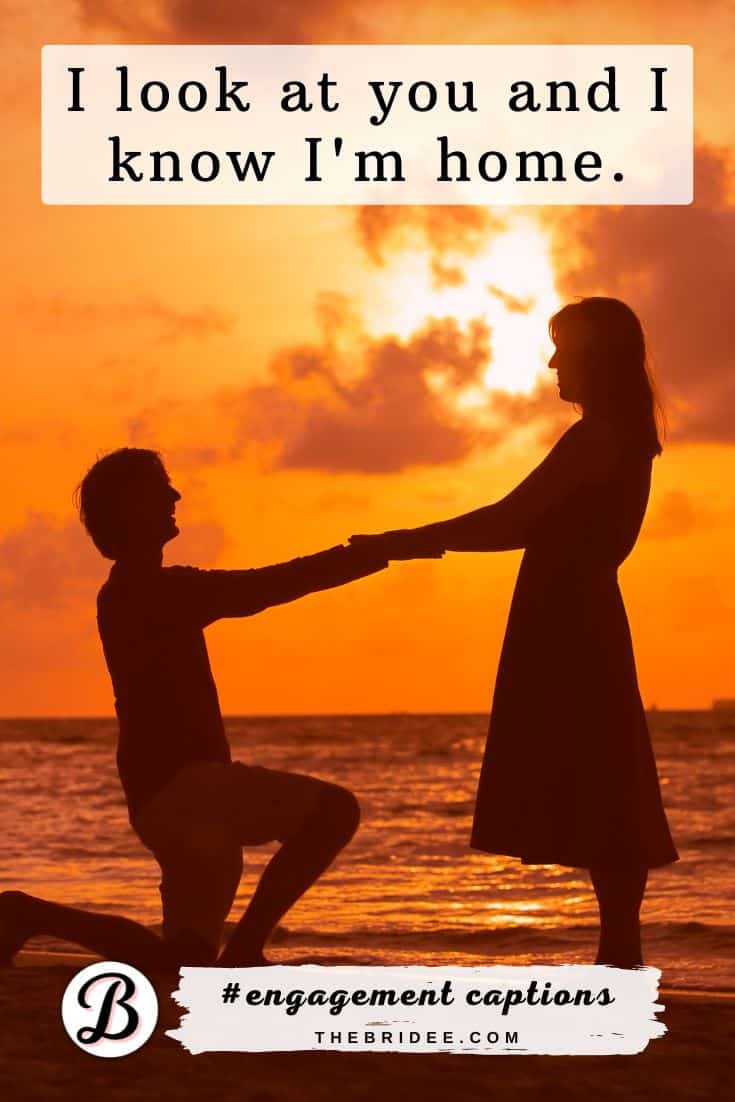 Engagement Captions for Her
The easiest "Yes" I've ever said.
I can't put my hands up during 'Single Ladies' anymore.
Still on cloud nine.
How am I you ask? Sparkling!
Will I ever stop smiling? Probably not.
I never want to stop making memories with you.
Pop the champagne, I'm changing my last name.
I am so fortunate that I have you to spend my life with forever.
Loved you then, love you still, always have, always will.
My name sounds even cuter with your last name added to it.
It started with a little crush, and now I have a ring on my finger.
OMW to Pinterest.
I guess I really am wifey material.
Did you notice something shiny on my finger?
Bride mode: loading.
Nobody pinch me.
Excited and thrilled for our biggest adventure.
Decided to change my last name!
Pop the party, I'm getting a husband soon!
I am blushing, I am engaged.
No calm, I'm getting married.
See, dreams come true, look at my finger.
I said "Yes," but what I really meant is, "It's about time."
I mean what was I supposed to say? No?
I said YES! Next up…I do!
Taking the trip of my dreams from Miss to Mrs.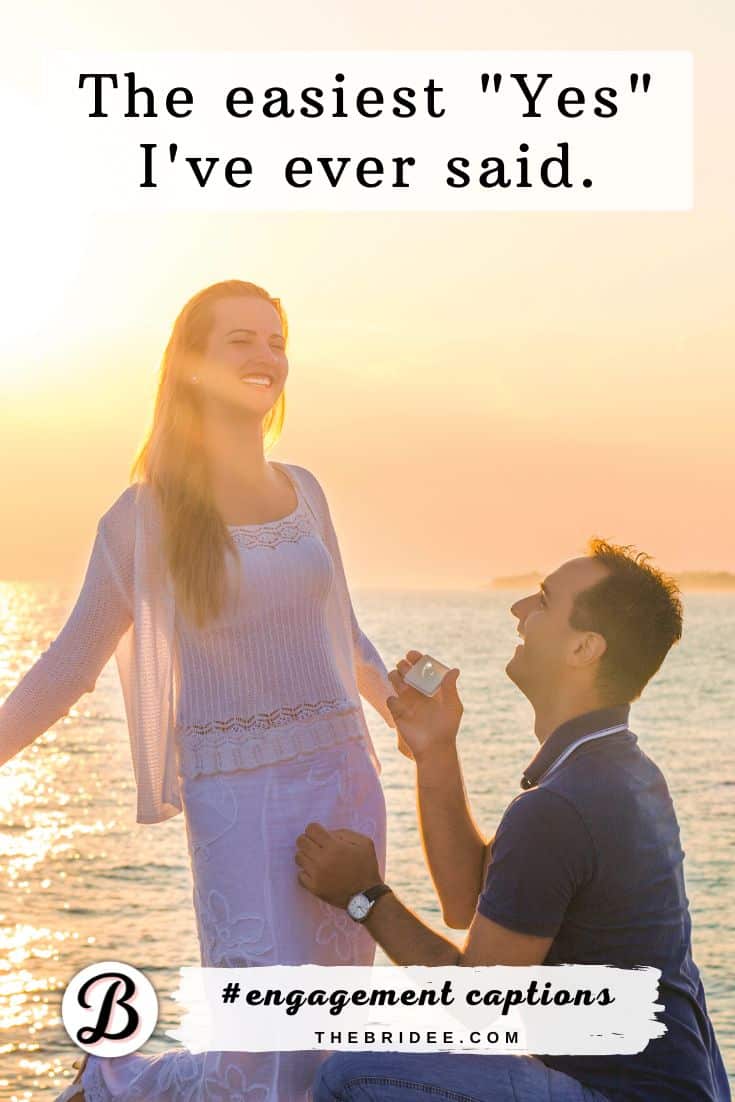 Engagement Announcement Captions
We've decided on forever.
My life, my rules! My heart is now with him.
Cheers to the toast of our engagement.
An engagement ring is the ring of true love.
The future Mrs. and Mr. [name]
We're getting married (!!!!)
My person… for life.
I said yaaaaas.
My dreams came true the day I met you, and now it's time for forever.
Happy to walk through life with you.
We'll be the cutest old couple ever.
New life starts soon!
Countdown to marriage begins now.
Our eternal love story starts here.
Beginning for a brighter tomorrow.
Meet my forever partner, my forever valentine.
This is one for the grandkids.
Next trip? Honeymoon.
No longer single.
I can't wait to start the next chapter of our life together.
I have found someone who stole my heart and gave his to me.
This is what pure happiness looks like.
The beginning of forever.
This smile is not going away anytime soon.
I don't mean to give y'all the finger, but we did a thing.
Our together is forever.
Our road starts here.
When life gets more sparkly.
Can I relive this moment a million times?
Here's the perfect selfie ever.
The one where we got engaged.
So…..this happened!
The beginning of the greatest love story ever written.
Biggest flex of the year.
The day I laid eyes on you, I knew you were something special to me. As time went by, I realized that you were my "home". And thank God, I did it soon. We are officially together now.
Must read: 397 Best Engagement Quotes from Famous Personalities
Engagement Instagram Captions
Traveling from Miss to Mrs.
The Instagram post you've all been waiting for.
Future Instagram husband.
I have something shiny on my finger.
Best. Date Night. Ever.
I'm over the moon about being engaged!
I said…no! #Jk.
He put a ring on it.
Keep calm and just say "I do."
Confetti here, champagne there, love everywhere.
💍💍💍💍💍💍💍 —Ariana Grande.
I think I am flying with you.
Today is the beginning of my always.
Guess who's getting hitched?
See you at the altar.
I can't wait to marry the love of my life!
Get ready for some serious engagement ring spam.
My name sounds even cuter with yours attached to it.
Till the wheels fall off.
Diamonds are forever … and so is our love!
It's hard to stay calm when you just got engaged!
I've found my forever travel buddy.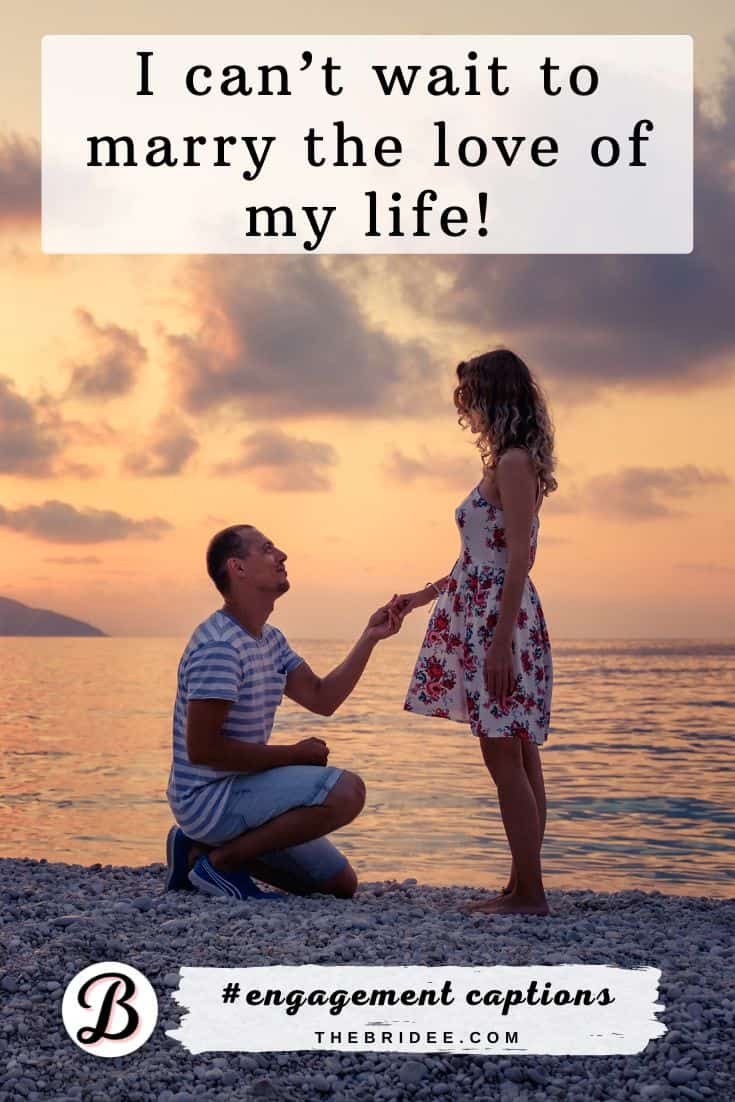 Engagement Captions for Facebook
Current Mood: Engaged
I found the one whom my soul loves.
It's a great day for an engagement.
Meet my forever valentine.
Oh my god, he finally put a ring on my finger.
Keep calm and get married.
Let the wedding planning begin.
The best 'Yes' of my life.
I'm ready for forever.
There's no one else I'd rather do life with.
Fat diamond check.
Had to climb a mountain just to get this rock. (for climers or hikers)
So, I'm on holiday with my boyf- oh wait, fiancé/my girlf- oh wait, fiancée.
It really is the holiday of a lifetime.
Never thought I'd come back from holiday with this souvenir.
When date night turns into a proposal…
Time to update the Facebook relationship status!
We created memories, we just witnessed a memory, and we will continue creating memories.
We have plenty to be thankful for this year.
Partners for Life.
I confess I am engaged.
What's new today? See my ring!
Making that whole forever thing official.
We are engaged, now get ready for some fun!
Unique Engagement Captions
You. Me. Oui.
Forever with you doesn't even seem long enough, but I'm sure we'll make do.
Love is patient, love is kind.
I will forever be there to laugh with you, to lift you up when you are down, and to love you unconditionally through all of our adventures in life together.
For true happiness, I need you by my side.
My fairy tale just started with my hero.
From today, we will live, laugh, cry together and forever.
Love you yesterday, today, and tomorrow. Now I will love you 365 days every year!
Your heart and my heart are very, very old friends.
Officially announcing: Engaged.
Look at the bond of commitment we share with this ring.
Not diamond or gold, an engagement ring is more precious than any valuable gem.
My life has been changed by falling in love.
So thankful to have a partner like you.
This was probably the quickest positive answer I have ever given. How could I not? Got happily engaged!
Let's be officially together till our hair turns grey and we transform into dust. Also, if an afterlife exists, let's be in it together too!
I found my missing puzzle piece, so making sure it stays with me forever.
Here's one more thing to add to the list of things that light up my life.
Christmas and Winter Engagement Announcement
Snow much love.
Christmas came early this year.
A perfect way to 💍 in the New Year. Literally.
New Year, New Name.
Yes, there were fireworks.
Snow is on the ground and love is in the air.
All I wanted for Christmas was you!
My New Year's resolution is to plan a wedding!
'Tis the season… to get married!
Feeling thankful for the family by my side, the food on my plate, and the ring on my finger!
The fireworks must've been for us, right?
Upgraded from chocolates to a ring!
Looks like I was on the nice list this year after all.
'Twas the night before Christmas and all through the house, everyone's stirring 'cause I found me a spouse.
So this holiday's going well…
Christmas came early.
Best Christmas present ever: a fiancé/fiancée.
So our engagement anniversary is going to be pretty easy to remember…
Ring-ing in the New Year 💍
More Captions for Engagement
Choosing your forever is the most important decision in the world, *S/O Name* you made that decision easy.
Forever. Period.
Heart bursting all day and all night.
It's about time
All the feels.
From Prom date to Soulmate.
I promise that I will be there for you through thick and thin.
Love recognizes no barriers. It jumps hurdles, leaps fences, penetrates walls to arrive at its destination full of hope.
You don't marry someone you can live with, you marry the person you cannot live without.
Decision has been approved. We are now forever.
From today, your heart will be my shelter, and your arms will be my new home.
Started from the bottom now we're here.
F*cking finally!
Keep calm and say "Finally."
Looking forward to spending my "happily ever after" with the man of my dreams! Save the date, for we just got engaged!
Mom said. "He's the one for you," and I agreed. On my way to be Mrs. soon!
If we could survive my teenage angst, we can get through anything.
This is 1,000 times better than his/her promposal….
Jeez! My favorite finger has finally got the ring.
Forever? Forever ever?
Forever with you.
The best love stories never end.
Endlessly in love with you.
The easiest "Yes."
What do you think about the ring on my finger?
He made my finger look magical with this beautiful engagement ring.
I'll be the one in white.
Does anyone want to come dress/suit shopping?
I love him. So I said "Yes!"
I never liked my last name anyway.
Engaged AF!
I think I need a new dress to go with this ring.
It's time to plan a wedding. Ring it on!
I can't wait to become a Mrs.!
It's a love story baby, I just said, "Yes"
I've never been so sure about anything until I met you.
The list of reasons I got engaged to him would be endless. So lemme just say, "He is my EVERYTHING."
I have something shiny on my finger.
Got a piece of jewelry I'll never take off!
Look who listened to Beyoncé and put a ring on it.
Feeling sorry for my single ladies brigade.
Read also:
Pin quotes on Pinterest: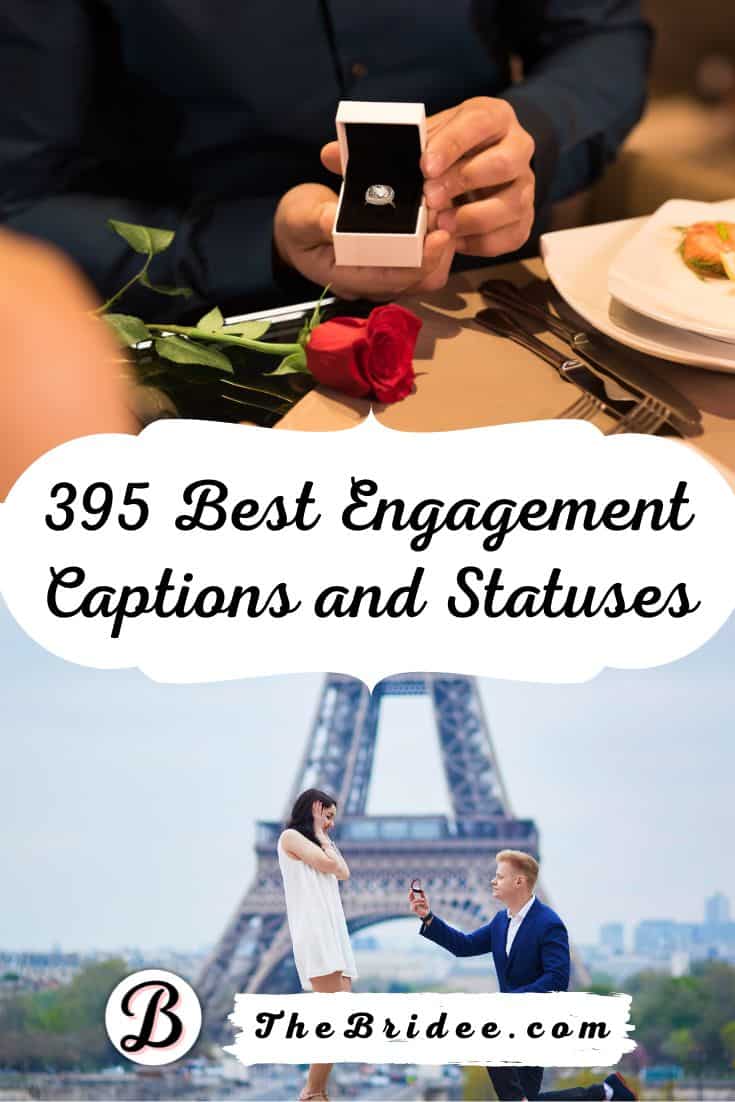 Cute Engagement Captions
Funny Engagement Captions
Did you like these quotes and captions? Share them with your friends!