Are you looking for some inspiration to plan an epic Bachelorette party trip? Here we have 45 amazing bachelorette trip ideas for every kind of bride and her team.
There are party destinations, beach destinations, wellness destinations, and places famous for beer, wine, and cocktails, there are also places great for hiking and nature. Will you choose a big city for your party or something more relaxed?
1) Bachelorette Yacht Party – Yacht week(end) in the British Virgin Islands
Let's start with something fancy. Have you heard about Bachelorette yacht parties? They are epic, sun, sea, cocktails, and music on the boat. Believe me, there is nothing like spending quality time with your friends, enjoying the beautiful turquoise sea together.
You can hire a boat with a captain or bring a friend who is a captain. If you book a boat for more than a single day, you can also explore the islands, enjoy beaches, and restaurants and simply have a fantastic holiday. If you are looking for a charter boat in the British Virgin Islands, have a look at Navigare Yachting. Their catamarans are wonderful.
2) Barcelona, Spain
From its world-famous nightlife to its one-of-a-kind Catalan culture, Barcelona is the perfect place for a bachelorette party. Barcelona, that's not just about Gaudi's incredible architecture, and sights, you can enjoy local delicious cuisine. Our favorite idea is to take one of the award-winning food tours, which you can end at the rooftop bar. Barcelona's nightlife here is unbeatable. The party never really stops here, as there's so much going on from dusk until dawn.
3) Napa Valley, California
Napa Valley is one of the most popular bachelorette party destinations. It's easy, chic, and fun for all your girls. Rent a villa, wine-taste your days away, get spa treatments, and spend your nights cooking dinner outside.
There is a little inspiration on the best wineries in Napa:
Louis M. Martini Winery
Fantesca
Far Niente
Pine Ridge Vineyards
Most Regal Chateau
4) Disney World or Disneyland
Disney World is not just for kids anymore. Enjoy the fun in the sun, world-class cuisine, trendy cocktails, spend a day at a spa or the pool, and then see fireworks at night. You can dress like a princess, Minie, or anything you would like to! The iconic Disney experience is waiting for you!
5) Ibiza – The Party Island
For party-loving ladies, there isn't a better choice than Ibiza – the PARTY capital. The city totally transforms at night. Great thing is that local clubs love to give special treatment to bachelorette parties, so feel free to wear some matching outfits and show off the bride-to-be!
Ibiza is not only great for parties, but also for its beautiful beaches and food and drink tours. Try some fresh seafood from the Mediterranean Sea! You can also hop on the deck of the boat and enjoy the sea breeze in your face and the wind in your hair.
6) Manchester, Vermont
Manchester in Vermont is a great destination for both winter and summer bachelorette trips. You can hit the slopes and Bromley in winter or enjoy the fun while snow tubing at Coca-Cola Tube Park. If the bride-to-be is a "horse girl" don't forget to take her to Mountain View Ranch and book a horseback riding tour. The ranch is set in a valley surrounded by mountains, making horseback riding here truly spectacular, quiet, and serene.
7) Reykjavik, Iceland
Iceland is surely an extraordinary destination. You can start your journey by exploring all of the natural wonders of the country. Along the Golden Circle, you can cover the Thingvellir National Park, The Great Geyser and Stokkur Geyser, and the stunning Gullfoss Waterfall, with water from the Langjökull Glacier.
No bachelorette trip would be complete without some kind of relaxation. You can try the Blue Lagoon Geothermal Spa with mineral-rich milky blue waters.
And last but not least – the nightlife. There are about 80 bars just a short walk along the city's main street – Laugavegur. And clubs? They usually stay open until 4:30 AM!
8) Amsterdam, Netherlands
Amsterdam is a city of unlimited possibilities. You can just have what you want. From legal marihuana to the best parties and clubs in the city. Imagine throwing the party at one of the rooftop bars, where you arrive by a hummer limousine.
Or would you prefer a private booze cruise, pole dancing workshop, or fun ride at Prosecco bike? You can even join the baking workshop, where the main ingredient is Cannabis. Well, a party in Amsterdam can get wild!
9) Las Vegas
The Sin City. There isn't a more typical place for a bachelorette party than Las Vegas. It is the right place for everyone who is seeking sunshine, top-notch restaurants, and parties. It's also popular for luxury shopping, shows, and indulgent spa days. You can't go wrong with any of the Cirque du Soleil performances. Do you want something epic? Take a helicopter ride to the Grand Canyon or Hoover Dam.
And maybe you can use the famous #what happens in Vegas, stay in Vegas.
10) Enjoy the Caribbean beaches at St. Lucia
A bachelorette party in St. Lucia is a great way to warm up during the cold winter months. Visit Sulphur Springs – known as the world's only "drive-in volcano. Later, you can take a warm mud bath. At night, there is also a lot to choose from, whether you are more into discos, live shows, or you prefer a mellower atmosphere.
11) Tulum, Mexico
Beach vibes, cocktails, and the Caribbean Sea. Tulum is a perfect mix for all ladies who want to enjoy a mix of great Mexican food, beach relaxation, and parties. Zona hoteliéra is full of stylish accommodations.
And if you are a bit into history, you can make an awesome trip to a Mayan archeological site. Why not visit one of the 7 wonders of the world – Chichen Itzá, on your bachelorette trip? And that's not all – Yucatan has more hidden gems. So don't forget to take a dip in some of the beautiful cenotes – underground caves with freshwater you can swim in.
12) Queenstown, New Zealand
This is something for adrenalin-loving and outdoorsy brides-to-be. There are soo many outdoor activities you can join (and all of the with incredible views). From bungee jumping, rafting, and speed boats flying through the narrow canyons. You can check these best things to do in Queenstown.
After a day full of adrenalin, you can enjoy the hot pools or join the pub crawl.
13) Paris, France
Paris – a city for romantic and fashion ladies. It's a city where unforgettable memories are made. Enjoy the walk by the Eiffel tower – or prepare a picnic with a view of the Eiffel tower. Sip some coffee by a cute little café, and eat delicious croissants a tone of Paris's boulangeries.
Besides these "cliché activities", you might try some French pastry lessons and learn to make macaroons, visit a cabaret performance or take a lesson in Pole dancing.
14) Miami, Florida
Miami is known for its beautiful white sand beaches, trendy nightlife, and lively arts scene. Simply a great place for a bachelorette trip. Spend your days tanning by the turquoise water and nights dancing to Latin rhythms in local clubs. And there is much more to do, from food tours to yoga, and private yacht parties to clubbing.
15) Prague. Czech Republic
This beautiful historical town is popular among bachelor and bachelorette parties from all around the world. Mainly because of the famous Czech beer, which is incredibly cheap but very tasty. A pub crawl is the number one activity in Prague during the evenings. But wait also for the day when you can admire this historical town, enjoy museums or a boat trip right under the Prague Castle.
16) Skiing in French Alps – Les 3 Vallées
French Alps are incredible for skiing and snowboarding, which makes it a perfect destination for the sporty bride-to-be and her team. The views of the snowy mountains are insane! And even more insane is how huge the skiing centers are!
Imagine a day like this: After a day full of skiing and enjoying the drinks on some pub terraces with incredible mountain views, you dip in a hotel whirlpool, enjoy the sauna, and then go for an Apres-ski party!
17) Salt Lake City, Utah
Utah is a great place for all kinds of bachelorette parties, whether you come in winter for skiing or in summer for hiking and other activities. If you stay in Salt Lake City, pick an accommodation right in the heart of the city, to be close to all the best nightlife and restaurants. You can also visit one of Utah's many National Parks like Zion, Bryce Canyon, Arches, Capitol Reef, and Canyonlands. They are all within driving distance from each other.
18) Koh Phangan, Thailand
What can be better than a tropical venue in Thailand? Koh Phangan is a perfect place for a "bach" trip because of the famous Full Moon parties! And that's not all, there are simply so many things to do in Koh Phangan, that you should rather plan a longer trip to this beautiful island! Are you and your babes brave enough to concert the water challenge park or you rather join some Thai cooking course?
19) Lake Tahoe, California, USA
Lake Tahoe is an all-season getaway for the outdoorsy bride-to-be. In winter, three ski resorts to choose from. But you'll probably be heading to Lake Tahoe for the spring or summer fun, which includes a variety of activities, from sailing charters and party boats to hiking, biking, horseback riding, wine bars, and distilleries. Don't forget about some relax time in the spa!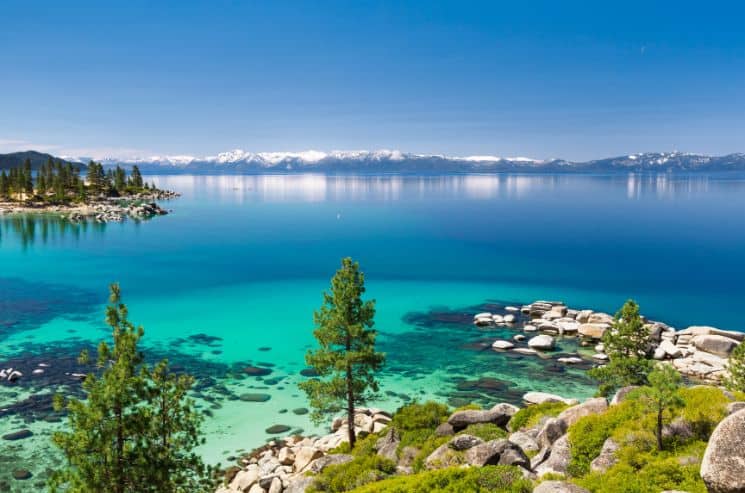 20) Rome, Italy
Are you ready to roam around ancient Rome? There is so much for history lovers! But not only for them, but Rome is also sometimes called the wine capital of the world, so there are many different wine tastings all around the city, featuring delicious Italian wines such as the Tuscan Montepulciano, the Sicilian Nero D'Avola, and more! You find there many classical "bach party" activities as well (e.g. spa, clubs, escape rooms, go-karting, and more).
21) Florence, Italy
One more very romantic Italian city. It has a perfect mix of beauty, relaxation, delicious food, and famous art! Will you choose rooftop aperitive, boutique spa, wine tasting, or some walking tours? And don't forget to visit the famous David statue!
22) Crete Island, Greece
Crete, that's picturesque towns, lovely harbors, cool clubs, and delicious Greek food. It's a perfect place for a chilled vacation, that can be combined with hiking and exploring ancient Greek landmarks, like Knossos Palace. Don't miss the pink sand beach Elafonisi or the turquoise Balos lagoon.
23) Santorini. Greece
Blue domes, stunning cliff dwellings, or luxury resorts with pools seem to float in the air above the ocean. That's the romantic Greek Island of Santorini. Explore the lovely town of Oia, walk the volcanic beaches, take a boat ride and watch the beautiful sunsets. Later you can stop at PK Cocktail Bar, overlooking the sea from Fira's caldera, or go party to Enigma – Fira's iconic nightclub.
24) Sedona, Arizona
Sedona, that's anything from the incredible scenery to fun activities like a pink jeep tour or yoga class in the desert. Once you decide to go there, you can expect incredible hikes like the Cathedral Rock hike or Devil's Bridge trail. And if you want to see some epic views without hiking that much, check out Jeep tours!
25) All-Inclusive resort in the Dominican Republic
If you want something extra, fly with your girls to the Dominican Republic and enjoy the pristine water of the Caribbean Sea. With the most beautiful beaches, turquoise water, and palm trees, it's simply a paradise! You can just chill and enjoy the resort beaches or join a catamaran party trip to an even more beautiful island like Isla Saona.
26) Cabo San Lucas, Mexico
Cabo has beautiful beaches, relaxing resorts, fun day clubs, fantastic nightlife, and delicious farm-to-table cuisines, it also offers adventures the whole group can enjoy. Our tip is to hire a captain and boat with water floats and get the celebration going. Later you can join the unforgettable ATV adventure through the desert.
27) Bermuda
Another great beach getaway! You can start your day with cliff jumping, then move on to Grotto Bay's Resort's Natura Spa with an azure underground lake in a 500,000-year-old natural cave, and continue with a great dinner on the beach. Next day you can enjoy a few cultural experiences, like the City Art Tour or a trip to the Town of Saint George. Cultural events by day, party by night! Clubs like Karma Nightclub, Front Yard, and Club Aqua are crowd favorites.
28) Bahamas
The Bahamas is the perfect location for a tropical getaway with your friends! Gorgeous beaches, a lively atmosphere, delicious food, and more! There are many islands to choose from. The Exuma Islands are known for their crystal-clear blue waters. Paradise Island is best known for the Resort Atlantis with its pools, waterparks, restaurants, aquarium, and casinos. Nassau – the capital is the largest city with the best nightlife. Bimini is the closest Island to get to – from Miami. It's known for its pristine beaches, nightlife, snorkeling experiences, and rich history.
29) Vieques, Puerto Rico
If you want to add something extraordinary to your beach bachelorette trip, visit Vieques Island in Puerto Rico. The reason is simple, there is the beach with the most amazing bioluminescent plankton in the world. You can book a tour to see those millions of sparkles in the water. Besides that, there is plenty of classical activities like cruises, beaches, and snorkeling trips that you can join.
30) Tokyo, Japan
A very unique destination for a bachelorette party can be the city of Tokyo. It's definitely something different. For nightlife, you must try tiny bars at Shinjuku's Golden Gai. There are over 200 bars to choose from. I am sure the girls will love to wear a kimono for a while (many companies offer rental Kimono or Kimono photo shoot session). Nail art and hair saloon are a big thing in Tokyo, as well as beauty shops, so you can enjoy your "girl time".
31) Provence and its Lavender fields, France
For all the ladies, who love beautiful photos, there is a perfect place. It's Provence in France with its stunning Lavender fields. Among the best ones are Terraroma, Lavandes Angelvin, Sénanque Abbey, and Château du Bois.
Remember that July and August are peak seasons for lavender plants.
32) Austin, Texas
Austin is known as "the live music capital of the world", and that's a good reason to pick this city for a party. Besides the music and nightlife, you can also enjoy a lot of fun on Disco or other cruises or by swimming at Barton Springs.
33) Aspen, Colorado
If you're thinking about gathering your girls for a skiing and snowboarding celebration, Aspen is the right choice. But it doesn't need to be the winter party only, there is a lot to do even in the summer. From hiking up the popular Smuggler Mountain, biking, and yoga sessions to Adventure Park at Lost Forest with zip line, ropes course, disc golf, paintball, and climbing wall.
34) Hawaii
Hawaii is one of the top girlfriend getaways in the world and there is a lot to do and see. From beautiful hikes, waterfalls, beaches, surfing, ziplining, sailing, snorkeling, paddleboarding, yoga, and tubing in the sugar plantation canals to gastro-experiences and relaxation. If you want to explore the island thoroughly, rent a car, which saves you money.
35) Chicago, Illinois
Chicago has a little something for everyone, whether the bride wants to bliss out at a spa, get out on the water, enjoy drinks with a view, or have a low-key beach weekend and sip exotic cocktails. You can even join the Spray paint class or ride through Chicago on a bike. There are 570 bike-share stations and the 606 is an elevated trail that runs above some of the city's most eclectic neighborhoods.
36) St. Thomas, US Virgin Islands
Does your idea of a perfect bachelorette party consist of sandy beaches, tropical drinks, and delicious meals? St. Thomas is another Caribbean island that meets the idea of a tropical and Relaxed bachelorette trip.
If you are into sailing, you can also rent a catamaran or some smaller boat over there.
37) Dolomites, Italy
Have you seen some pictures from the Tre Cime in the Italian Dolomites? Well, then I guess the pictures itself is the invitation for spending some time in the Dolomites. Again, this is something for outdoorsy brides-to-be.
But despite the outdoorsy nature of the place, you can also enjoy the great Relax there as well. Hot tubs, saunas, wine. There is simply something for everyone.
38) Malibu, California
Malibu is a great place that offers a variety of activities. From outdoor hiking in Malibu Creek State Park to Malibu Wine hikes. There are beautiful beaches like Zuma Beach and Matador State Beach. In the evening, you can choose from dozens of bars, clubs, and pubs.
39) Hallstatt, Austria
Let's continue with incredible places surrounded by nature. Hallstatt is a tiny town in Austria, which is on the World Heritage UNESCO list. Despite its size, there are many activities you can join. First of all, stroll around the beautiful Hallstatt Lake, later you can visit Hallstatt Salt Mine, Dachstein Ice Caves, Welterbeblick, or 5 Fingers lookout point.
40) Glass igloos in Finland
Do you love the North? And would you like to enjoy watching the Northern Lights with your besties? In finish Lapland, there are perfect glass igloo resorts for the ultimate Aurora experience. Try Arctic Snow Hotel & Glass Igloos, right by Santa's permanent Rovaniemi home, where electrically heated roofs in igloos keep you cozy while inviting in views of the surrounding pine forests, and star-spangled sky.
And the last 5 places are general ideas, that can be found nearby your hometown and won't disappoint you!
41) Find luxurious Glamping
Have you heard about glamping? It's where nature meets modern luxury, it's simply camping at stunning places under luxurious tents or at wooden treehouses. I think that glamping is exactly the perfect idea for a trip with your girls. Type into Google "Best Glamping around …." And find your perfect getaway place!
42) Wellness and hot tubes
Do you love saunas, spas, whirlpools, and wellness places in general? Then the spa party is a great choice for you. Imagine a day lounging poolside, luxurious treatments, and a relaxing atmosphere where you can sit back and chill out with a drink, and your best friends by your side.
43) Luxurious Airbnb
Do you want to feel for one-night very posh? Then rent some of the very luxurious Airbnb's. If you are a big group, it doesn't even need to be that expensive. If you have a whole house just for yourself you can throw a big dance party here, play games, or do whatever you wish!
44) Wine-themed bachelorette party
Are you a wine lover? Then you shouldn't leave out the wine tasting! You can either make a trip to the closest wine area or choose some cool local winery. I am sure, they will prepare some wine-tasting packages for you and your team!
45) Camping at the lakeside
Are you a group of outdoor girls? Then find a nice lake in your area – or search for cool lakes a little bit further, you can bring guitars, make a campfire, and watch the stars later on! Bring also your favorite drinks and you can play some of the popular bachelorette party games.
Well, we hope you will choose the perfect bachelorette destination right for you and enjoy the once-in-a-lifetime party together with your besties. Good luck!
More Honeymoon Inspiration:
Read also our other articles:
Pin Bachelorette trip ideas and destinations on Pinterest:
Did you like these Bachelorette trip ideas and destinations? Share them with your friends!