Are you ready for a bachelorette party? Or did you just enjoy the perfect party and you only need a great caption for Instagram pictures?
We have prepared the ultimate collection of the best bachelorette party caption and quotes.
Best Bachelorette Party Quotes and Captions
Last fling before the ring.
Hit me baby one more wine.
Come on Barbie, let's go party!
Tonight, it is for the final thrill – before she says I will.
It's the final countdown.
Keep calm, it's bachelorette party time.
Kiss the bride, it's her final girls' night out!
All ladies to the dance floor.
Let's pop the top, she's tying the knot.
She Said Yes, We Said Vegas [or other Location]
She's love drunk, we're just drunk.
Single for the very last time.
100% babe today — 100% wife tomorrow.
He popped the question. We pop the bottles.
Look like a beauty, party like a beast!
Before [bride] says I do, let's have a drink or two!
This 90's baby gets married.
He put a ring on my hand – You can put a drink in my hand.
Last night before Mr. Right.
Raising hell before wedding bells.
One last party before the groom 'Steels' her away!
The wedding is on its way, so let's dance the night away!
One more night, let's do it right.
Pop the champagne. I'm changing my last name.
Bad decisions make great stories.
To love, laughter, and happily ever after.
Game over! But not before tonight!
She's got her man, now she's got her girls!
Ask me if I want another shot. I'm practicing saying I Do.
Short Bachelorette Party Captions
I DO crew!
Last 24 hours as a miss.
Miss To Mrs.
Bride & Co.
Next step: Becoming a wife!
Next stop: Wedding.
She Said Yaaas
Bride-in-training.
Bachelorette support crew.
Baches be crazy.
Boss Bride / Boss Babe
Bride gang.
Soon to be Mrs.
Wedding countdown begins.
A sweet ending to a new beginning!
A weekend to remember!
Bling, bling, she got the ring.
Let's do the damn thing.
Let's get wild.
Bachelorette Bar Crawl
Bachelorette vibes.
Bachelorette Weekend!
Caption this…
Drinking Crew.
Bridin' Dirty.
Bach and boozy.
Bach and boujee.
Bride Pride
Bride's brew crew.
Bride's last rodeo.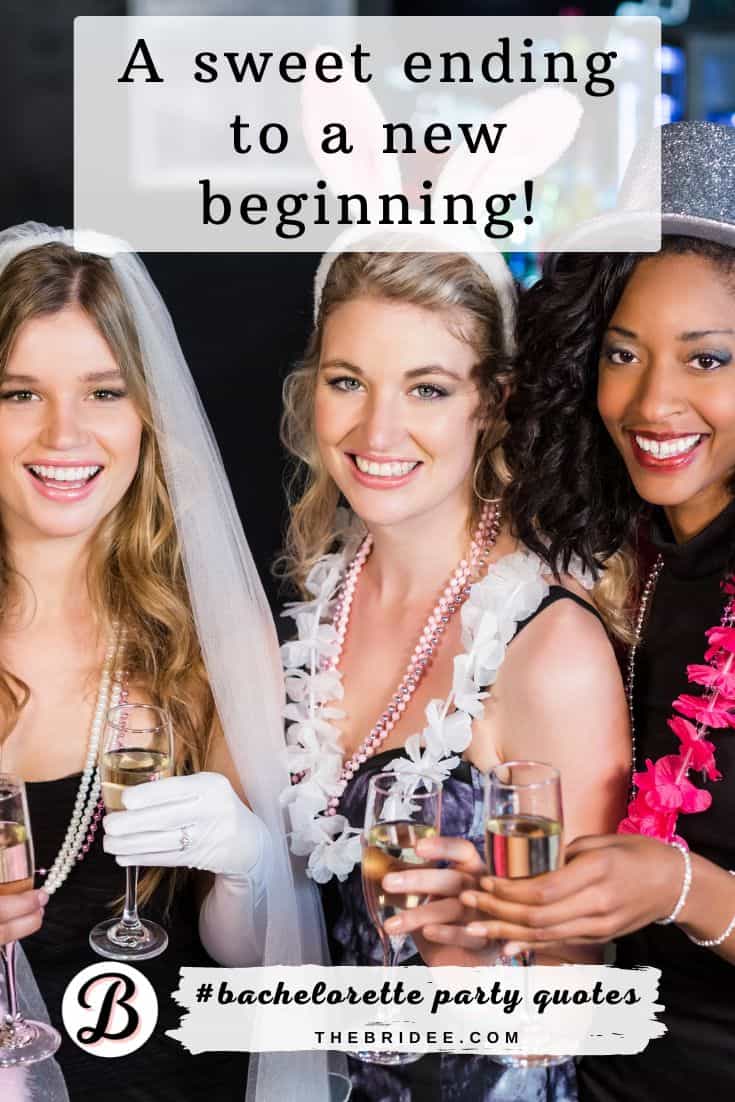 Funny Bachelorette Party Captions
Danger: Bachelorette party out of control.
Something borrowed, something blue, we party harder than you.
Time to wine down.
Twenty-four-hour champagne diet.
One tequila, two tequila, three tequila, floor.
Caution – Bride may contain alcohol.
We make pour decisions.
A White Trash Bachelorette Bash.
100% wild wifey-to-be.
Trust me, you can dance. – Alcohol
Twenty-four-hour champagne diet.
We don't get drunk, we get awesome!
Wine flies when you're having fun.
You're invited to Get Down.
Your last walk of shame.
(Bride's name) is getting hitched; now we'd better domesticate her. Report to the kitchen at 6 PM.
Wedding season has been tough on my liver.
Always a bridesmaid, never a sober one.
Before my single life is done, let's have a night of fun!
Bride or die.
Caution: [bride]'s bachelorette party in progress.
Drunk in love.
Feyonce.
If tomorrow never comes – I won't be married.
Looks like I (she) swiped in the right direction.
My friends are all getting married, I'm just getting drunk!
Dirty Bachelorette Quotes
This bitch is gettin' hitched
Engaged AF
Same Penis Forever
Best f@ucking Bachelorette party ever!
Future Mrs. cheers B*tches.
Sexy in the City.
Let's party, b*tches!!
Bach sh*t crazy.
Let's get naughty.
Bach that ass up!
Bride's naughty elves.
Bachelorette Party Instagram Captions for Bride
From Miss to Mrs., with our best wishes.
Gettin' Hitched
I'm trading only trading titles: hot babe to hot wife.
I Got the Hubby / We Got the Bubbly
If lost, please return me to my squad.
Just livin my best life with my besties.
Keep calm and get your bachelorette on.
Look like a beauty, party (/drink) like a beast.
My single life is ending, but the fun has just begun!
My squad is better than yours.
Best Bach crew a girl could dream of.💕💕
Blessed with the best friends.
He got me a ring; I'm getting his last name.
He's promoting me to wife
Today one of the girls, tomorrow a wife.
Ain't Over Until I Say I Do / Ain't Goin' Down 'Til The Sun Comes Up
Good times + crazy friends = amazing memories.
Shout out to my girls for making my bachelorette party so amazing.
From Miss to Mrs. with all my b*tches.
Give me my robe, put on my crown. This bride is about to bring the house down.
Bride vibes on repeat.
Flamingle with me, I'm the bride-to-be.
A little vacay with my 'I do' crew.
Before I say I do, I want to party with you!
Celebrating love, lust, and last days as a miss.
Counting down the hours before becoming a Mrs.
I'm single until my fiance drags me home.
Bachelorette Party Captions for Bridesmaids
Beer with us, she's getting married soon!!
Let's get you married, honeyyyy!
I'm looking for the wild side of life.
It's the bride's last ride.
Out to play before we give her away.
She leaves a little sparkle wherever she goes.
The real bridesmaids of [location].
We all said, 'Yassss!'
We solemnly swear we're up to no good.
Bride tribe is ready to have the time of their lives… Let the party begin!
Slots and shots for her bachelorette.
Together is a beautiful place to be.
[Name] Found Her Hunk, So We're Getting Crunk
Bride has found Mr. Right. Let's celebrate with a girls' night out!
Besties, wine, and in bed by nine (AM).
Camp Bachelorette, She's getting hitched, we're getting lit.
Proud to be with the bride-to-be.
Brideguards.
Bridesbabes.
Brides Wing girls.
Buy her a shot she's tying the knot.
Celebrating her forever!
Dismiss the miss; it's time for Mrs!
Her last dance as a single lady.
Maid of honor duties 💕
We are not your typical bridesmaids; we are your women of awesomeness.
Nautical Bachelorette Party Captions
The last sail before the veil.
[Bride's Name] Last Dive
Anchors down bottoms up.
Feelin Nauti'
Getting Nauti with the crew. #SeasTheDay
Good vibes happen on the tides!
Happiness comes in waves.
I found a catch.
Help us tank her before the anchor.
Last splash, before her dash down the aisle.
Let's get shipfaced.
Let's Get Nauti
Making the last splash.
Mermaid Bride / Mermaid Squad
Swim Like a mermaid, Drink like a fish.
Nauti Bride / Nauti Crew
Bach party, boat days and more fun.
Boats 'N Ho*s
Beach Bachelorette Party Captions
Beach and booze, before I do's.
Aloha Bride / Aloha Beaches
Babes, beaches, bikinis, and boats.
Bachelor party all-stars.
Hola Bride / Hola Beaches
Hot bride summer.
Hot sands and cold cans before the wedding bands.
Sun, sand, and a ring on her hand.
Toes in the sand, ring on my hand.
Time to shellabrate.
See you later. Off to the Bach party.
Tropic like it's hot.
Good times and tan lines (with bride).
It's all about friends, sea, and having fun.
Sandals in the sand and a ring on her hand.
This bachelorette party's gone coastal.
Bachelorette Party Quotes for Friend
This party's gone bridal.
Time to drink champagne and dance on a table.
She found her hunk, so we're getting crunk.
She found her main squeeze.
She's getting married, so we're having a party!
Sorry fellas … She's getting married!
Stilettos, Martinis, and big diamond rings, these are a few of my favorite things.
Bestfren Bachelorette behavior.
Besties? Check. Wine? Check. In bed by nine? Check.
Miss to Mrs – one-way ticket.
Please don't mind the happy tears!
Put on your dancing shoes, join is for girl's night out in honor of [name].
Pour the wine; his last name is mine (hers)!
Start with coffee and end with wine.
The bride's personal walk of fame.
The girls are out to mingle, for the bride's last night single.
The Last Hurrah!
This bride is stressed, blessed, and coffee obsessed.
Vegas now, vows later.
When best comes to worst, squad comes first 🎉🎉
Bachelorette Party Instagram Captions
This bachelorette is wilder than your stories on Instagram!
Heels, diamonds, and pearls, it's a night out with my girls!
Kiss the Miss Goodbye.
She's not a regular bride, she's a cool bride.
Bachelorette party begins NOW!
She's the wife of the party.
The countdown is on for your best day ever!
The Happiest Bachelorette Party on Earth, featuring the future Mrs. (NAME)!
The Hunt is Over. (Bride Name)'s Bachelorette Party.
This country chick is gettin' hitched.
What happens at the bachelorette party stays at the bachelorette party.
[Name]'s Happily Ever After
[Name's] last ride before she's the bride.
A final toast to the single life before [name] becomes a wife.
Before the big day, lets party the night away!
Before the ring, let's dance and drink!
Loved loving on this bride 😍
Everything is bigger in Texas, including my bachelorette party.
First, say I do to a night out with the girls.
I (she) got bling from my (her) king!
I'm not a regular bride, I'm a cool bride.
I'm not married yet!
Boozy Bachelorette Party Sayings
A ring in one hand, a drink in the other.
Alcohol may not be cool, but nobody gets the party started with a salad.
Boozin' & Cruzin'.
Hit me baby one more wine.
How Merlot can you go?!
Champagne Campaign
Champs Drink Champs
It's my party and I'll wine if I want to.
Keep calm and wine on.
Pop the Bubbly, I'm Getting a Hubby
Rise and wine.
Rosé All Day.
Brew's Before I Do.
Save water, drink wine.
Stop and smell the rosé.
Till death do us party.
Vino and vows.
Watch me sip, sip, Chardon nay-nay.
Whiskey bent and veil bound.
But, first champagne.
The party before the party.
Time to wine down.
Vino before vows.
When I sip, you sip, we sip.
Whiskey bent and veil bound
Wingardium mimosa.
Wishing our girls a very boozy weekend
You had me at Merlot.
A wedding's near; buy me a beer!
First, say I do to this glass of champagne.
No wine left behind.
On cloud wine.
Bachelorette Party Captions – Fiesta Style
Final fiesta before the wedding.
My last Margarita as a señorita
No time to siesta, it's my final fiesta.
Sip, sip, olé.
Bride's final fiesta.
Sip, sip, olé
Te amo, Tequila.
[Name]'s Last Olé.
Drinking margaritas with my señoritas.
Fiesta, Siesta, Tequila, Repeat
Hen Party Quotes
It's the last fling before the ring.
Kick your heels off and put your boots on.
Now let's see how the rest of the night goes …
Sometimes you just need a girl's night out.
Bachelorette party Sexy ladies in the house!
Come Paint the Town.
Forget about the rules for one more night.
Honky tonk hoedown before the gown.
Cowgirl gang.
Before the wedding romance, we will party and dance.
Girls just want to have fun.
Her last ride before she's the bride.
Here comes the fun!
Howdy, let's get rowdy.
If I'm lost, buy me a drink.
It's a girl's night out, so you better watch out.
Let's get toasted.
The party doesn't start until we walk in.
Bring out the fun – it's a bachelorette.
Celebrating the bride's last ride.
Hot babes party hard.
Let's get ready to stumble.
Party like there is no tomorrow.
Bachelorette Party Puns
Everything happens for a Riesling.
Let's look at the bride side.
Pour decisions.
Taco Bout A Party
Taco Bout Love
Bach to the 90s.
Here's to living on the bride side.
Sip happens.
Wife me up.
Wine not?
Be there in a prosecco.
Expecto patron and rum.
Chardon Heyyy!
Chillax, it's a bachelorette.
Read also:
Pin quotes on Pinterest: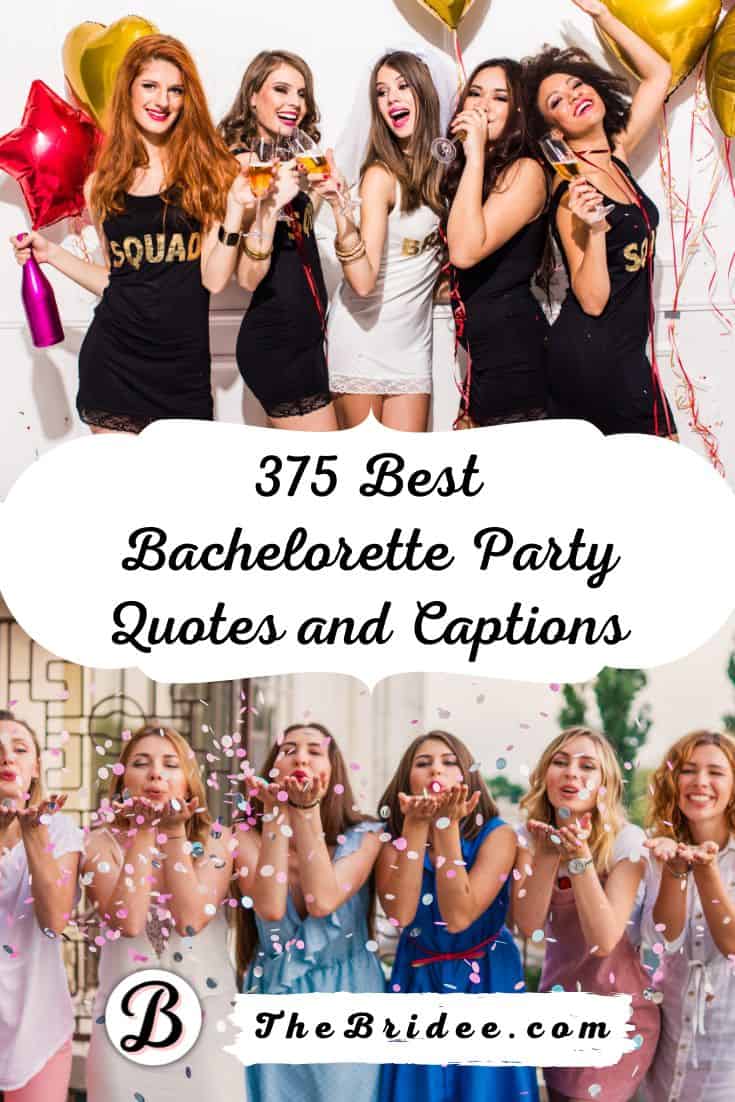 Funny Bachelorette Party Captions
Short Bachelorette Party Captions
Did you like these quotes and captions? Share them with your friends!