Are you looking for some great quotes or captions for your bachelor party pictures? Check out our large collection of the best bachelor party quotes and captions.
Best Bachelor Party Quotes
"You know how funerals are not for the dead, they're for the living? Bachelor parties are not for the groom, they're for the uncommitted." — Bill Murray
"In olden times sacrifices were made at the altar — a practice which is still continued." — Helen Rowland
Days are counting before he takes the bride to the altar.
Twinkle, twinkle, little star, point me to the nearest bar.
The party before the party.
What happens at the bachelor party stays at the bachelor party!
Bad choices make good stories
Keep Calm and Party in the Club!
I often thought that what does not kill us makes us drink stronger liquor.
Forget about the world & enjoy the moment coz we r young.
"I was the best man at the wedding. If I'm the best man, why is she marrying him?" — Jerry Seinfeld
"The secret of a happy marriage remains a secret." — Henny Youngman
"I'm a lifelong bachelor, but that doesn't mean I wouldn't marry the right woman." — Richard Roeper
I'm not here to make friends, I'm here to make best friends watching 'The Bachelor.
"It's a funny thing that when a man hasn't anything on Earth to worry about, he goes off and gets married." — Robert Frost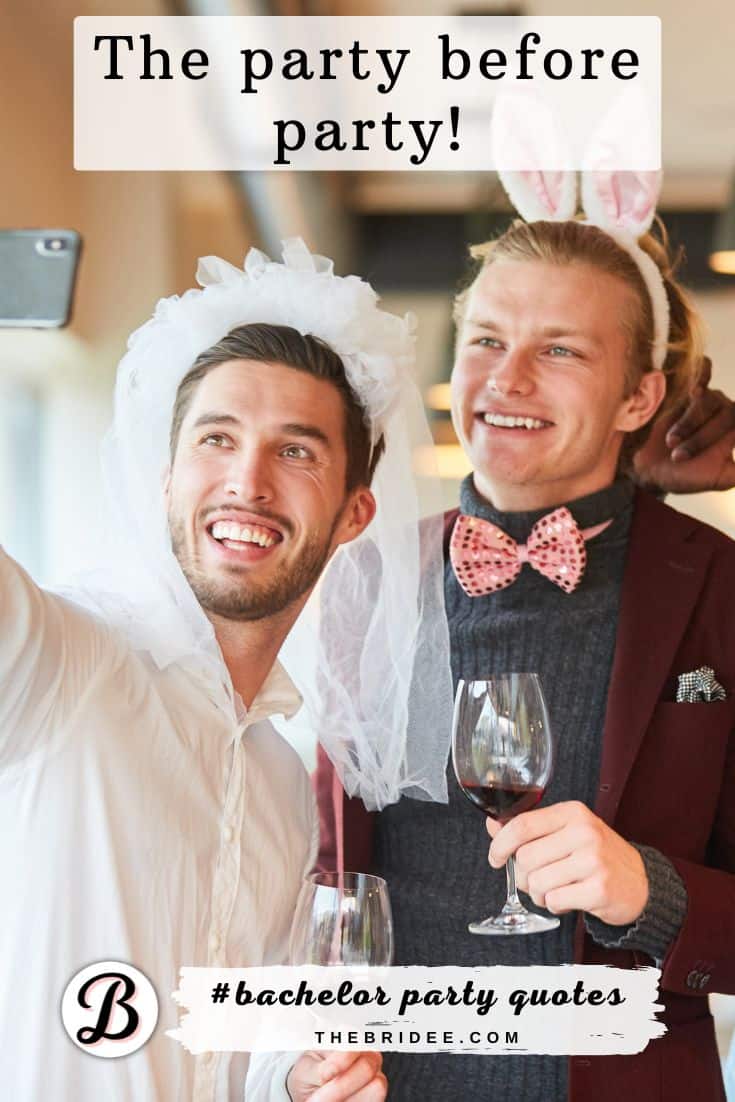 Short Bachelor Party Captions
See you later. Off to the Bach party.
It's the final countdown.
Groom's final fiesta.
These are the nights we live for!
She said yes!
This Sure Beats Wedding-Planning.
One tequila, two tequila, three tequila, floor.
I solemnly swear that I am up to no good.
Making the last splash.
Groom's Farewell Tour.
Bachelor party all-stars
I'm single until my fiance drags me home.
Now to see how the rest of the night goes.
Alcohol you later.
Shine like your drink.
Drunk in Love
Before you say, 'I do,' let's have a party or two.
Sorry girls, this hunk is taken!
Groom, game over!
Groom is doomed!
She said yassss.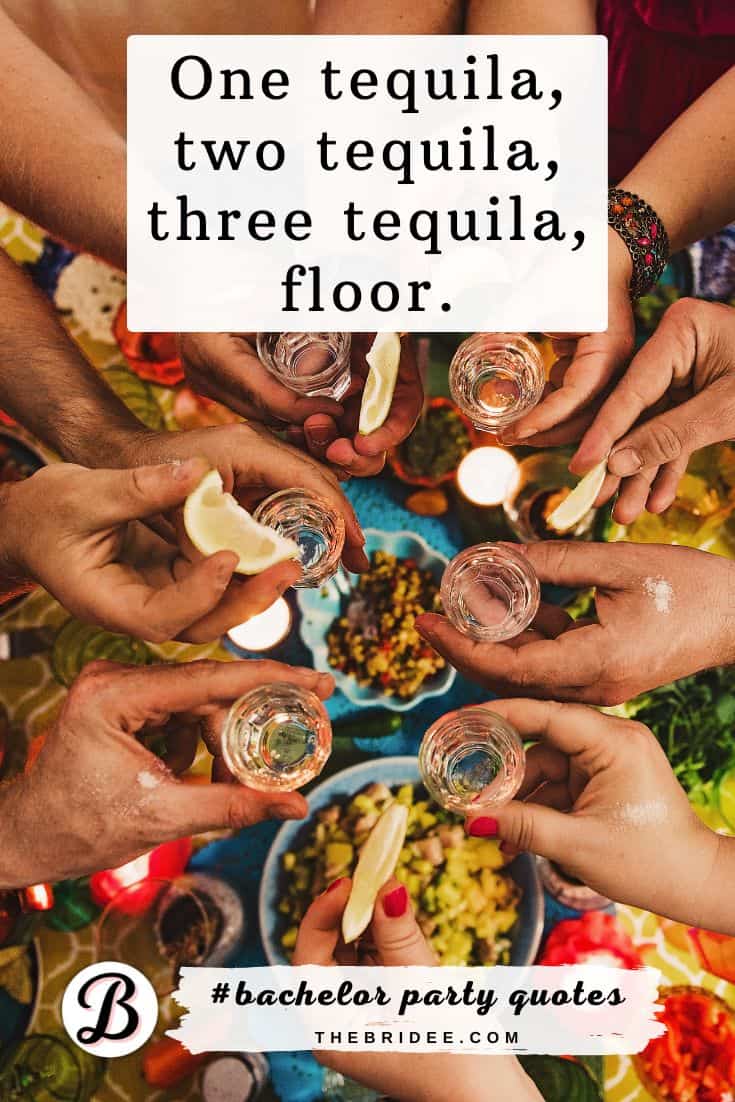 Funny Bachelor Party Captions
Soon-To-Be-Wed Sounds Eerily Similar to Soon-To-Be-Dead!
Hangovers are temporary. Drunk stories are forever.
Goodbye to life. Hello to Wife.
A bachelor's life is no life for a single man.
"Bachelors know more about women than married men; if they didn't, they'd be married too." — H. L. Mencken
He popped the question. We're popping bottles.
I haven't seen this many men dressed in women's clothing since my bachelor party.
Soup of the day: Tequila
I really think there's a connection here between me and my wine.
Funny Bachelor Quotes
"The man who says his wife can't take a joke forgets that she took him." — Oscar Wilde
"Marriage is when a man loses his bachelor's degree and a woman gets her master's degree."
"A bachelor is a man who comes to work each morning from a different direction." — Sholom Aleichem
"Don't marry for money; you can borrow it cheaper." — Scottish proverb
"A man may be a fool and not know it, but not if he's married." — H. L. Mencken
"I love being married. It's so great to find that one special person you want to annoy for the rest of your life." — Rita Rudner
"Every man should get married sometime; after all, happiness is not the only thing in life!"
"Often the difference between a successful marriage and a mediocre one consists of leaving about three or four things a day unsaid." — Harlan Miller
"All of the troubles that some people have in life are those which they married into." — Edgar Watson Howe
A Bachelor of Arts is one who makes love to a lot of women, and yet has the art to remain a bachelor.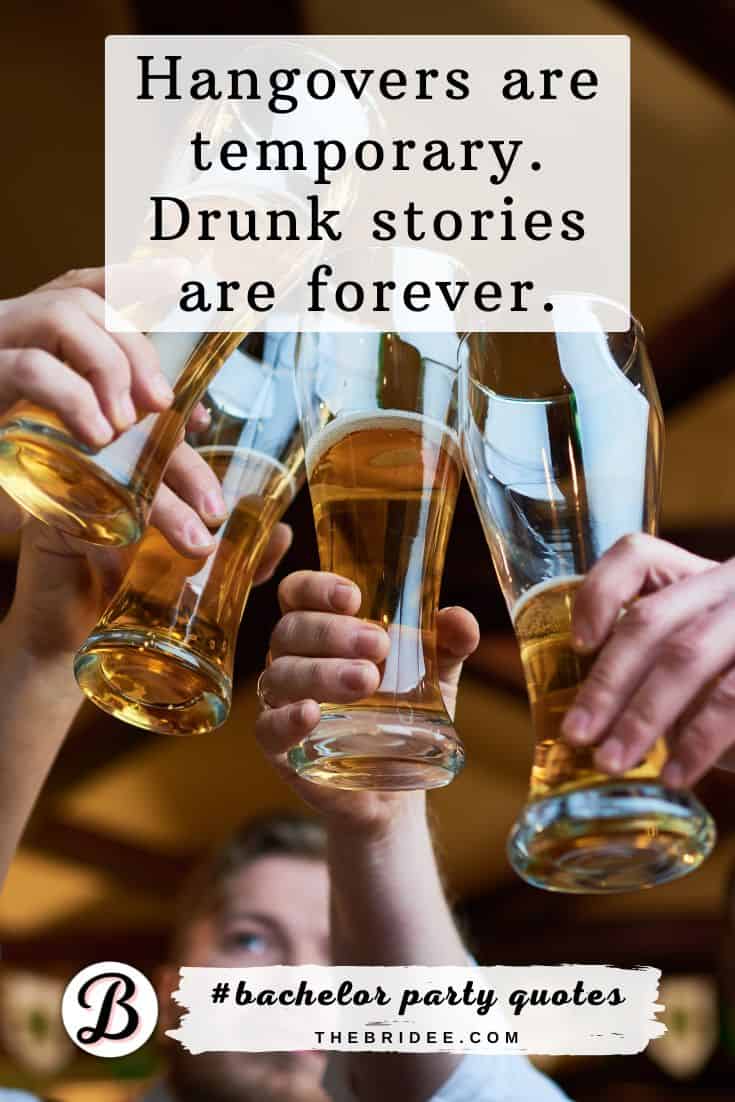 Bachelor Party Instagram Captions
"The only good husbands stay bachelors: They're too considerate to get married." — Finley Peter Dunne
No more days of being single and ready to mingle. And that's reason enough to P-A-R-T-Y.
Boy meets girl. They fall in love and get married. But before that, his friends throw a big party and have a date with fun. Don't miss it.
Raising hell before the wedding bells.
A little party killed nobody. — Fergie
To love, laughter, and happily ever after.
The hangover only lasts a day, but the memories last a lifetime.
Trust me you can dance. – Vodka
Bach, please.
Caption this…
Buy me a shot, I'm tying the knot.
Bachelor Party Quotes and Sayings
"If you go to war pray once; if you go on a sea journey pray twice; but pray three times if you are going to be married." — Russian proverb
"Bachelors have consciences, married men have wives." — H. L. Mencken
"Hey 'Bachelor,' take notes! Trusting one another and sharing a journey to health leads to lasting relationships!" — Alison Sweeney
"Never trust a husband too far or a bachelor too near." — Helen Rowland
Life may not be the party we hoped for, but while we're here we should dance.
"Let's have a bachelor party with chicks and guns and fire trucks and ho*kers and drugs and booze!" — Rudy, Bachelor Party
Bachelor Party Quotes for Groom
Sorry ladies, I'm getting married!
I know I'm not perfect, but I'm so close it scares me!
I'm Single Until My Fiance Drags Me Home.
A gentleman and a few really good men in a one-night party celebration.
Ask Me If I would like Another Shot. I'm practicing saying I Do.
One More Fling Before the Ring.
Single for One More Night.
"Bachelor, a peacock; betrothed, a lion; married, an ass." — Spanish proverb
Last Swing Before the Ring.
I can't keep calm, I'm getting married.
Groom to be Prisoner.
Groom's Name,'s Bachelor Funeral.
Bachelor Party Quotes for Best Friend
Our buddy is getting hitched. It's our turn to paint the town red. So what are you waiting for? Hop in.
Remember this night for years to come. Your friends will always be there to love and support you!
By all means, marry. If you get a good wife, you'll become happy; if you get a bad one, you'll become a philosopher.
Sorry girls, this hunk is taken.
Never trust your drunk best friend with the ring on your bachelor party.
I'm here for all the right reasons.
Forget about the world & enjoy the moment coz we r young.
I'm here for all the right reasons.
Bachelor Trip Quotes
No time to siesta, it's my final fiesta.
"Bachelor parties are for married guys." — Chrissy Teigen
Are 24 hours a day and 24 beers in a case a coincidence? I think not.
It is the final fling before the final ring and I want to create many memories with all my friends who have been there for me. So see you all at my bachelor party trip!
"Always do sober what you said you'd do drunk. That will teach you to keep your mouth shut." — Ernest Hemingway
Come and meet some legends.
I'm ready to paaartyyyy! 
More Stag Party Captions
Be silly. Be fun. Be crazy.
Celebrate with a bang and get lost in the night.
Crazy nights make the best memories.
Don't ever look back.
All we've got is NOW!
Fight for your right to party.
Go wild!
Go hard or go home.
Cheers and beers.
Good music. Good friends. Good vibes.
Goodbye, reality. Hello, party!
Keep calm and drop the bass.
Let the good times roll!
Own the night!
Ready, get set, party!
Put on your party pants. We're here to party!
When it's time to party, we party hard, eh.
Why the hell not?
Drunk words are sober thoughts.
The more you try to celebrate life, the more you discover that there is so much in life to celebrate.
Give me the beat and free my soul.
There is something in singing, dancing, and partying that does a lot of good for everyone's well-being.
Party till you drop!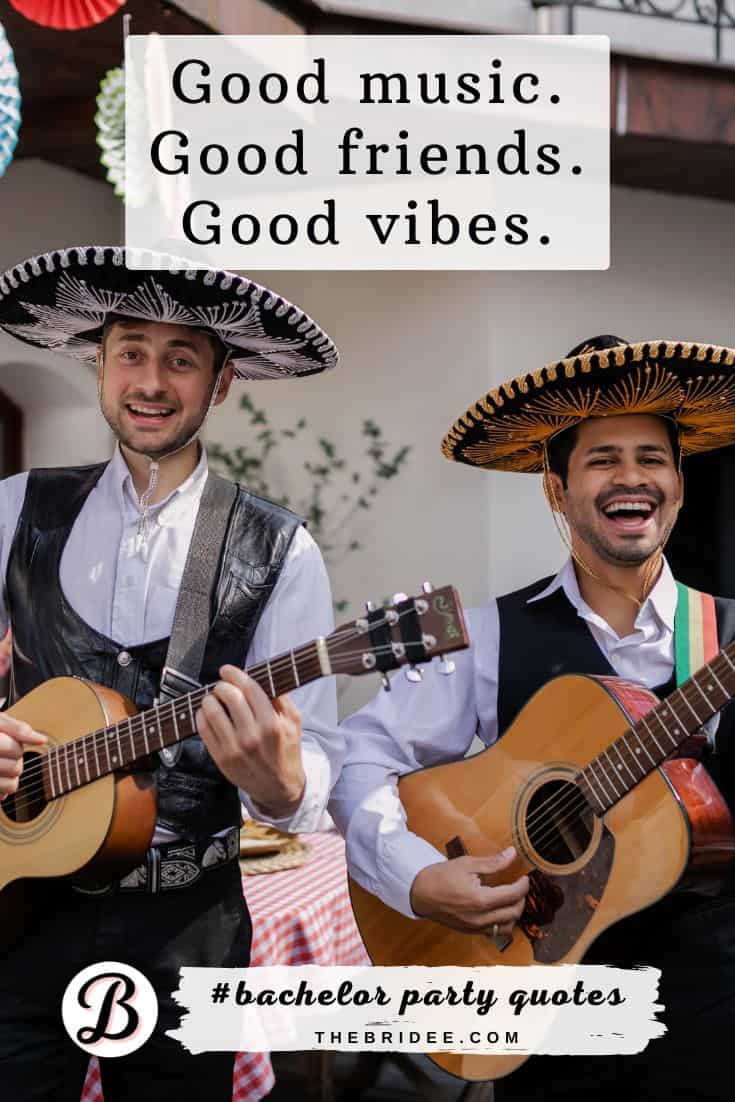 Bachelor Party Hashtags
#HereComesTheGroom
#ThisSureBeatsWeddingPlanning
#GroomSquad
#TheEndIsNearBuyTheGroomABeer
#GroomToBePrisoner
#WhatHappensWithTheBachelorsStaysWithTheBachelors
#BrewsBeforeTheIDo's
#CheersToBeersAndBadDecisions
#BachelorBash
#GroomsCrew
#LevelingToHusband
#LastDaysOfFreedom
#SorryLadiesI'mGettingMarried
#LetsParTee
#LetsGetReadyToStumble
#BuyMeAShotImTyingTheKnot
#bachelorpartyweekend
#vipparty
#pubcrawl
#drinkinggame
Bachelor Party Puns
Taco 'bout a party.
Let's look at the bride's side.
Let the party be gin!
More Bachelor Quotes
"A bachelor never quite gets over the idea that he is a thing of beauty and a boy forever." — Helen Rowland
"Telling lies is a fault in a boy, an art in a lover, an accomplishment in a bachelor, and second nature in a married man." — Helen Rowland
Mark your calendar lol' boy. Unlimited fun is coming your way.
Stripper on the Knee and a Drink in Hand. That's a Bachelor Party!
"He who wants to marry is on the path of repentance." — Greek proverb
"Do not let your bachelor ways crystallize so that you can't soften them when you come to have a wife and a family of your own." — Rutherford B. Hayes
Live for today, plan for tomorrow, party tonight, party tonight.
Hear no evil, speak no evil and you'll never be invited to a party.
Read also:
Pin quotes on Pinterest:
Funny Bachelor Party Captions
Short Bachelor Party Captions
Did you like these quotes and captions? Share them with your friends!